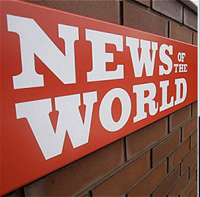 On Tuesday James Murdoch stated quite clearly to the Commons Culture Select Committee that there are "no immediate plans" to launch a new Sunday tabloid newspaper, so could Associated News be ready to fill the void?
More on this story
More than ready if the rumour-mill is anything to go by. Norman Giller has been speaking to his moles, "that is, people who have willingly spoken to me – with not a single hacked voicemail message involved" he writes, and has reported that the group are working on a title simply called 'Sunday' designed to fill the £30million gap in the market left by the paper.
He continues "the new paper would be celebrity-led, with sport playing a huge role. The irreverent Kelvin MacKenzie, who recently jumped ships from The Sun to the Daily Mail, is apparently being lined up as a leading voice."
With whispers of a test run this weekend we may not have to wait long to find out what Associated are up to. Let us know if you've heard anything.