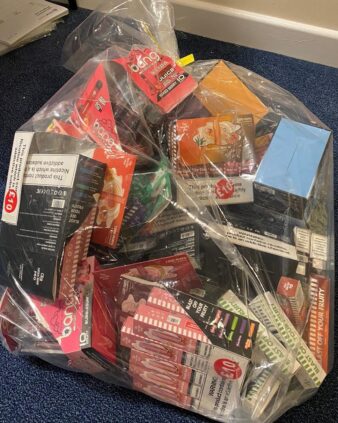 Trading standards departments are taking 'enforcement action' in stores in response to rising reports of illegal disposable vape products.
Letters sent to retailers by Highlands trading standards officer Catherine Cumming and seen by RN claimed "there has been a recent rise in reports across the UK of illegal vaping products being found on sale. These products are commonly referred to as 'disposable vapes', 'nicotine puffs' , 'Elf Bars' or 'Geek Bars'."
While both Geek Bar and Elf Bars are legitimate brands with legitimate and fully legally complaint products available in the UK, concerns have grown over counterfeit and imported stock from other markets which does not comply with UK vaping laws.
Last week, Geek Bar's UK marketing manager Jabir Ahmed that the firm was working to notify trading standards departments of stores selling counterfeit Geek Bar branded devices and e-liquids, with some stores having more than £8,000 of stock seized following inspections.
In one instance, Walsall Trading Standards seized Geek Bar devices from a local retailer on 15 September. The local team explained: "Walsall Trading Standards have found and seized these disposable vapes. Geek Bar vapes are legal; Geek Bar *Pro* vapes are illegal as the amount of liquid in them is above the permitted amount."
Catherine Cumming agreed that some devices had been found to contain "an excessive amount nicotine which is harmful in continual consumption. Media reports have highlighted the adverse reactions young people have experienced when using these products."
Criticising the design, price, flavours and social media publicity as making them 'particularly attractive to young people' she reminded retailers that vaping products must not be sold to anybody under the age of 18.
The Highlands trading standards officer urged retailers to check their stock of disposable vaping devices 'especially if they have not been obtained from a local wholesaler'. Stores were told that the products must feature the name and UK address of the importer or manufacturer, contain no more than 2% nicotine, have no more than 2ml of liquid inside and have the exact phrase "This product contains nicotine which is a highly addictive substance" on the products.
If stock fails any one of these tests, retailers were told to 'remove them from sale and dispose of them.'
In a final warning to stores selling vaping products, Cumming wrote: "We will be conducting inspections at retail premises over the next few weeks. Any offending products will be seized as evidence for further enforcement action."
Read more news and advice on trading standards