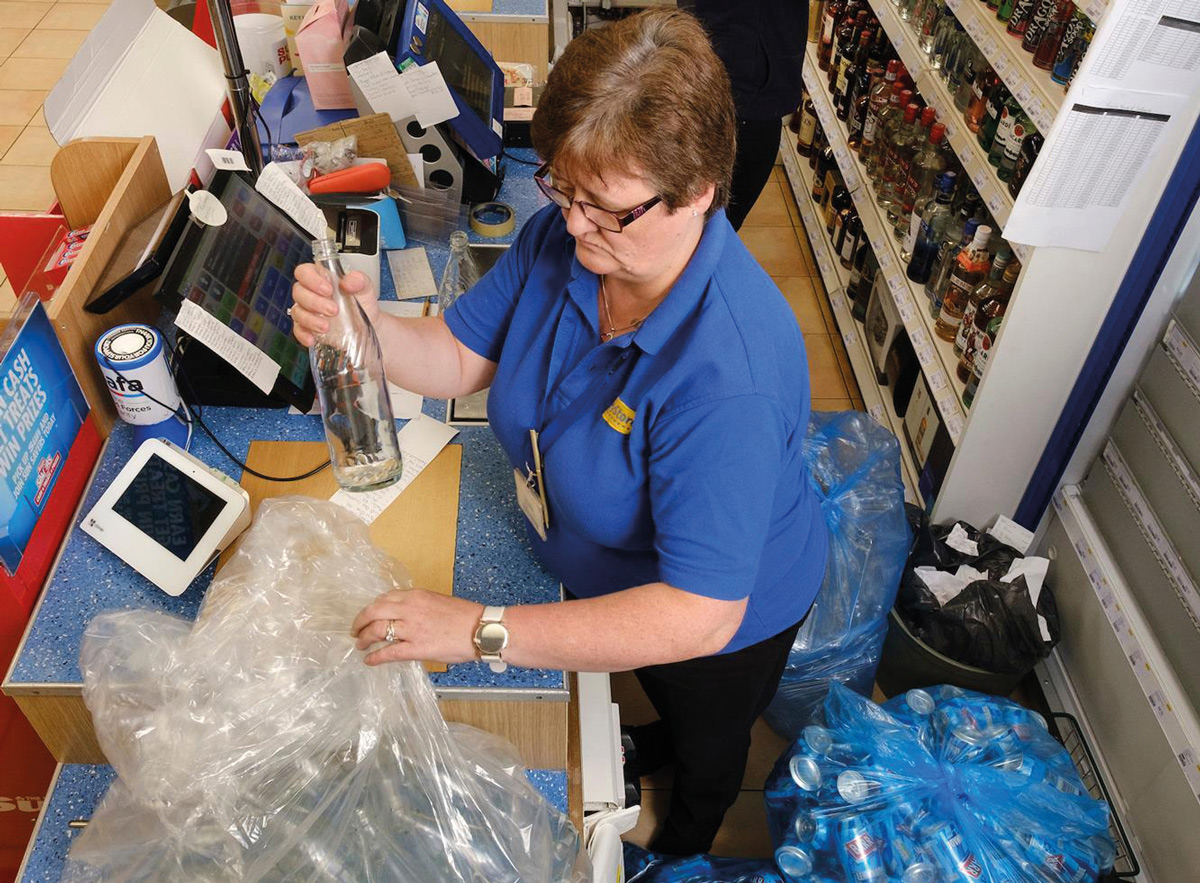 Stores accepting bottles manually in Scotland's deposit return scheme are expected to earn just £100 a year, according to a confidential source.
The source confirmed to betterRetailing.com that Zero Waste Scotland has commissioned auditors Deloitte UK to work on a business case for deposit return scheme ahead of its implementation in April 2021, and said the £100 figure was the result of its research.
The comment comes as concerns among retailers rise with claims the Scottish government is undervaluing the selling space behind counters, where retailers will store the necessary containers for empty bottles and cans.
In a committee meeting with the steering group last week, sources alleged the Scottish government told retailers the space behind the counter is only worth £250 per square metre per year. Mo Razzaq, owner of a Family Shopper in Blantyre and a committee member, said the "government's assumptions are wrong".
Read more: Deposit return scheme: everything UK retailers need to know
He said: "They told us they believe the space behind the counter which we display our most highly priced items is not of value and that we only generate £250 from it. I estimate that I earn approximately £4,500 a year from the products sold from behind my counter, which is roughly the same price as a physical deposit return scheme machine."
He revealed that the government have requested he provide them evidence that supports his argument. "They want me to give them some evidence to back up my objection," he said. "The retailers that will fall foul here are the smaller ones who introduce manual handling because they will only receive 2p per bottle, which is a huge imbalance to what they are making from sales behind the counter."
Retailer Ferhan Ashiq, owner of Prestonpans Village Store in East Lothian, branded the government's claim "nonsense".
He explained: "I keep all my premium spirits behind the counter, which equates to at least 200 bottles. I make £100 a week easily from these sales."
Ashiq warned that alcohol licensing issues could prevent retailers from moving their alcohol ranges to elsewhere in their store if needed to cater for manual handling. "I enquired with my local East Lothian council about moving my range from behind my counter and they didn't want me to because of the chance of increased theft," he said. "They said they are no longer keen on accepting applications like that."
Rudi Fruzynski, East Lothian council's licensing standards officer, said the movement of alcohol must comply with the licensing board's guidance in preventing alcohol theft by children. "I am more reassured when these areas are covered by CCTV, staff monitor the stock when the premises are busy and the high-value spirits are security tagged," he said.
However, Fruzynski added that each case is based on "individual merit". "This means giving consideration to the number type and capacity of premises in the nearby locality, and any other influencing factors affecting the area in which the applicant's premises are to be, or are, located," he said.
Read more: Deposit return scheme concerns raised by SWA
Read more news and advice on sustainable retail