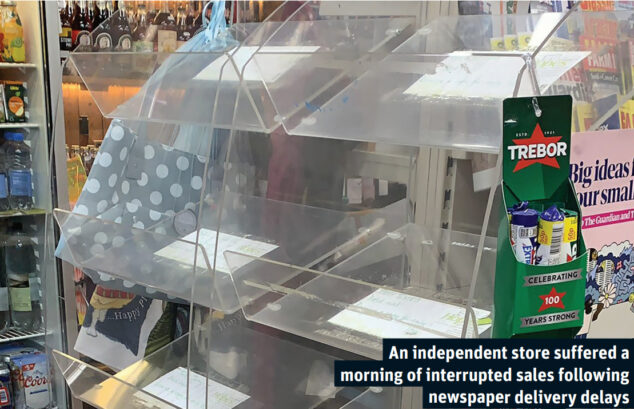 Independent retailers have won restitution claims against news wholesalers in 75% of arbitrations to have taken place since the Press Distribution Charter was updated this year.
The Press Distribution Forum's (PDF's) charter sets out the obligations of wholesalers and publishers, enabling stores to claim restitution through a review panel when these obligations are not met, such as through late deliveries, missing copies or under-payment of vouchers.
The claims process was "simplified" under the new charter earlier this year to support retailers in reporting issues.
By reducing the complaint stages from three to two, the PDF said the process became "swifter" when publishers and wholesalers fail to address complaints informally.
Press Distribution Forum announces new charter
Analysis by betterRetailing of the four arbitration decisions by independent chairperson Neil Robinson to be reached since March 2021 showed three successful claims for restitution for late deliveries and one rejected claim for restitution on missing vouchers.
In the unsuccessful voucher claim, an audit by Smiths News found the retailer had submitted more vouchers than they had sold. In one of the successful instances, Smiths News had tried to reject a claim for restitution for lost sales on delivered papers because the retailer had not told Smiths News they were providing home news delivery (HND).
The arbitrator overruled Smiths News, stating there was "no provision" in the charter requiring stores to register their HND services in order to receive compensation.
The wholesaler had also fought against paying 55p compensation per delayed copy by claiming the rate was only applicable to missing and not late papers.
Newsquest cuts store margins to below 15% on more than 40 local newspapers
Smiths News' claim was described as "totally erroneous" by the arbitrator, stating the 55p restitution rate should be paid to cover the "additional costs" incurred by home news deliverers due to late deliveries.
Rather than the £1.35 in restitution initially offered by Smiths News, the wholesaler was ordered to pay the retailer £56.10.
Even in another late-delivery claim, when evidence submitted by the retailer was described as "very vague", the arbitrator sided with them against their wholesaler Menzies, after data supplied by the latter at the request of the arbitrator showed the store was receiving late deliveries.
Menzies offered to pay restitution and steps by Menzies "resolved" the cause of the delays, according to the arbitrator. Stores can make a complaint about their news or magazine supply by visiting pressdistributioncharter.co.uk.
Read more news and articles about the newspapers and magazines category