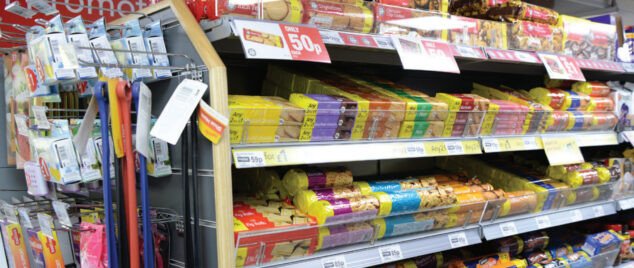 Retailers have changed their buying habits in response to a squeeze on the margins of price-marked packs (PMPs).
Store owners told betterRetailing they had seen increases in the wholesale prices (WSP) of non-PMP and PMP lines from Booker, Bestway and Nisa.
The increase on wholesale prices on PMP lines faced the most criticism, with stores unable to adjust the RRP accordingly to make up for lost margin.
One store owner said the margin on £1 Cadbury chocolate bars from Bestway had shrunk from 20% to 16%. They added a case of £1.29 PMP 500ml Coca-Cola cost £17.99 from Bestway, compared with £13.99 from other wholesalers.
Nisa also increased the WSP across hundreds of lines by 3.5%, claiming it was "no longer sustainable" to absorb the costs associated with the coronavirus pandemic and driver shortages.
Retail prices to rise 5% due to supply chain issues
One Nisa retailer claimed the margins on price-marked sandwiches dropped from 15% to 12%.
Premier retailer Steve Archer said placing greater focus on promotional lines rather than PMPs was helping to maintain shopper value perception and drive greater volumes to make up the lost percentage margin on goods. "The strategy for us is going for promotional lines. Booker promotional items are likely to have 25% margin," he added.
"If you go with stock on promotion, the chances are you will sell more and you will make more money. The customer will get a good deal and keep coming back."
Ronald MacLennan, of McLennans in Benbecula, Outer Hebrides, delisted PMP lines with a WSP increase and moved to visiting multiple cash and carries instead of using a centralised ordering system. "We're also replacing own label with branded lines," he said.
One retailer, who asked not to be named, has increased shop prices on non-PMP alcohol by 5p to 10p to counter the margin loss on price-marked items. "Customers haven't noticed the changes yet, but they might when they visit other stores," they said.
Lack of tanker drivers applying for temporary UK visas fuels availability issues
Commenting on potential increases, Bestway managing director Dawood Pervez described the squeeze on margins as "dangerous". He added: "We're seeing enormous increases in the wages for pickers, warehouse workers and drivers.
"Our drivers had to go to service stations for fuel where prices are 15% more expensive. They're doing fewer drops because they had to queue up.
"Manufacturers are hounding us with price increases and the big concern is how the shared margin on PMPs are hit.
"Suppliers need to see convenience as the biggest sector tipped for growth. They need to take funding away from the big multipacks, such as 30 packs of Walkers."
Mondelez declined to comment, while CCEP was unable to comment at the time of publication.