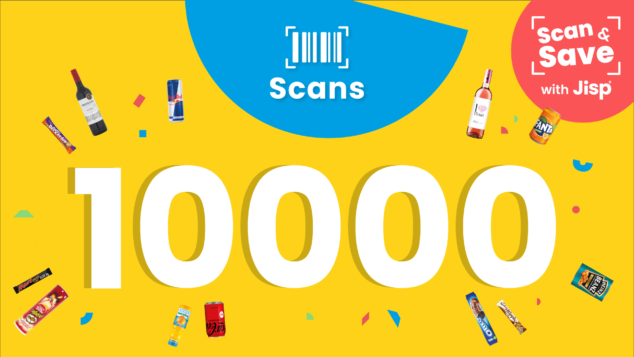 Jisp has reached 10,000 scans, 5,000 taps and 2,000 redemptions in just five weeks of its Scan & Save trial with 14 Nisa stores.
The introduction of Scan & Save has boosted brand sales, with Red Bull and Trivento Malbec wine being the top-selling products followed by Fanta and Coca-Cola cans.
The trial allowed customers to get savings on certain products using Augmented Reality (AR) vouchers. The AR solution reads product barcodes and presents exclusive promotions, which customers can then save and redeem with their mobile phones.
Jisp's new Scan & Save scheme pays commission per scan – betterRetailing
The technology allows brands to minimise carbon footprint and waste as well as helps retailer to grow sales in store and build loyalty.
Greg Deacon, chief customer officer at Jisp, said: "The early shopper adoption has been impressive, with a strong number of repeat users at 59% which shows that our tech is boosting loyalty. We've also noticed that the majority of shoppers were ages 30-39, with half of the customers being mostly female.
"Data like this allows us to advise brands and retailers on how they can optimise their budgets, fine-tune marketing campaigns, improve store operations and reward retailers and shoppers alike," he said.
Jisp partners with Nisa to launch first ever augmented reality vouchers – betterRetailing
Nisa retailers have been rewarded for every single voucher tap and offer redemption in store, earning £400 across five weeks.
James Taylor, Nisa's head of central operations, said: "The early indications from the Scan & Save initiative are superb, and we're delighted to be part of it. It's a brilliant new way of engaging with shoppers and helping to drive footfall which is always very welcome to our independent retailers, and we're excited to see how it continues to perform over the next coming weeks."
Jisp partners with Zoom 1hr Delivery to create Last-Mile delivery – betterRetailing
Alan Carr, owner of Nisa Newport Stores, said: "We're delighted to have partnered with Jisp and Nisa on Scan & Save. This has been really welcomed by our shoppers, helping them to save monies on their favourite brands. We even had a "Scan a Grand" winner which was brilliant. Jisp help us promote locally to increase footfall and shopping with us. In addition, we welcome the extra monies received for shoppers scanning in our store which is a great reward. Scan & Save is really easy to use, and we're looking forward to see how this grows heading into Christmas".
Read more Jisp news