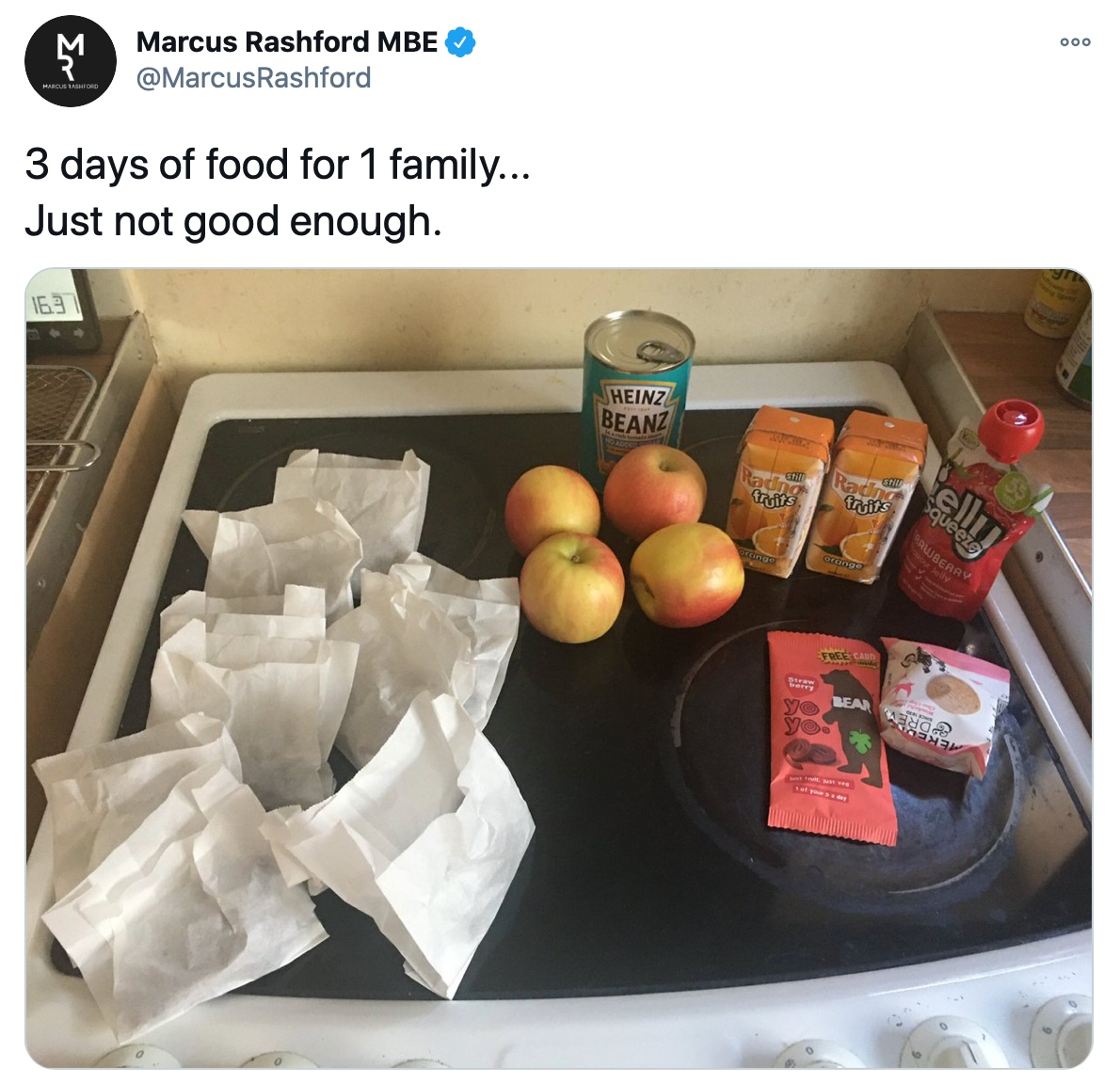 Convenience store operator and catering specialist Compass Group has come under fire for the quality of Government-funded food packages sent out to hard-up families.
The firm's school catering arm Chartwells is sending free school meals packages, supposedly containing £30 of goods meant to last 10 days to families struggling to make ends meet.
However, one recipient alleged their package contained a loaf of bread, one tin of beans, cheese, three yogurts, Soreen, pasta, two potatoes, four apples and two carrots. The recipient provided a photo and cost breakdown claiming the same goods bought from Asda would cost £5.22.
Footballer and food poverty campaigner Marcus Rashford tweeted said it was "just not good enough."
Chartwells, which is part of the Marcus Rashford Child Food Poverty task force, responded that the image "does not reflect the specification of one of our hampers."
A £23 two week hamper listed on Chartwells' website included two 200g block of cheese, 14 portions of fresh fruit, 16 portions of vegetables, 1kg pasta, 4 cans of chopped tomatoes, 2 cans of tuna, 9 snacks and one loaf of bread.
Photos from recipients of free school meal parcels from other catering firms also showed contents not sufficient to fulfil the 10 day/£30 specification. Unless a school catering team confirms it is unable to provide food parcels, families in need are unable to receive vouchers valued at £30 per two weeks to spend at supermarkets. Convenience stores were excluded from the voucher scheme, despite evidence suggesting they would greatly expand access to food in impoverished areas.
The Department for Education is responsible for overseeing and funding the distribution of free school meals. A spokesperson said it had 'clear guidelines and standards for food parcels, which we expect to be followed." Children's minister Vicky Ford said she would be investigating the issue.
Compass Group operates a network of convenience stores in locations such as military bases, universities and hospitals, including 20 'pop up' sites in hospitals to support key workers during the pandemic.