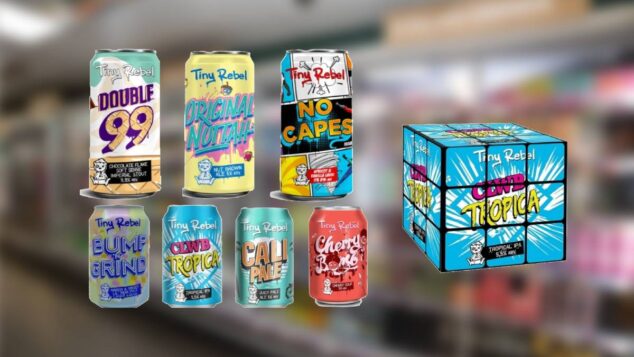 Following complaints from the Metropolitan Police, Alcohol Focus Scotland and a member of the public, eight Tiny Rebel products have been reviewed by the Independent Complaints Panel (ICP).
Tiny Rebel's product, Cwtch, was previously found in breach of the code in 2017 and 2019. However, in 2021, the company received further complaints about Bump 'n' Grind, Cali Pale, Cherry Bomb, Clwb Tropica (330ml can), Clwb Tropica four pack, Double 99, No Capes and Original Nuttah.
The packaging of all eight products drew complaints because it was believed they may present a particular appeal to under-18s.
Assessing the complaints, the ICP concluded that five products prominently using Tiny Rebel's bear logo did not comply with packaging rules. Other factors in the decision included the display of cartoon characters, and themes such as sweets and 99p ice creams.
How many complaints to make a product change its packaging?
The name Bump 'n' Grind was considered to have a link to sexual activity, while Original Nuttah's name and picture were found to be offensive and derogatory to mental illness.
Finally, despite featuring the ABV strength on the can, the IPC felt that fruit flavours such as Cherry Bomb do not clearly communicate the alcoholic nature of the product.
Cali Pale and Clwb Tropica's 330ml can, two of the eight items examined, were deemed to comply with the code.
Prior to the ICP's decisions, Tiny Rebel voluntarily discontinued Bump 'N' Grind, Cherry Bomb, No Capes and Original Nuttah.
The chair of the IPC, Nicola Williams, said: "Tiny Rebel's product range has had problems across a range of areas, but in particular with designs that have a particular appeal to under-18s, although this has not been its intention.
Calls for better law enforcement support to help tackle illicit tobacco
"It is essential that alcoholic products are aimed squarely at adults and clearly communicate their alcoholic nature. Equally important is the need to avoid widespread offence, particularly around mental health."
A spokesperson from Tiny Rebel said: "At Tiny Rebel, we take all consumer complaints very seriously, as well as our wider social responsibility. We build in continuous quality at all levels which includes branding and promoting our beers.
"We'll continue to work closely with the Portman Group and are committed to following their guidance. We're delighted that they have confirmed that our Clwb Tropica IPA and Cali Pale Ale products are both fully compliant."
The member of the public who originally complained said: "Good self-regulation is critical to the ongoing success of the UK alcoholic beverage industry. The industry has a responsibility to protect vulnerable young people from products that are not suitable for them.
"In upholding the complaints against Tiny Rebel Brewery, the Portman Group has demonstrated that it can provide effective leadership in the continued self-regulation of the alcoholic beverage industry."