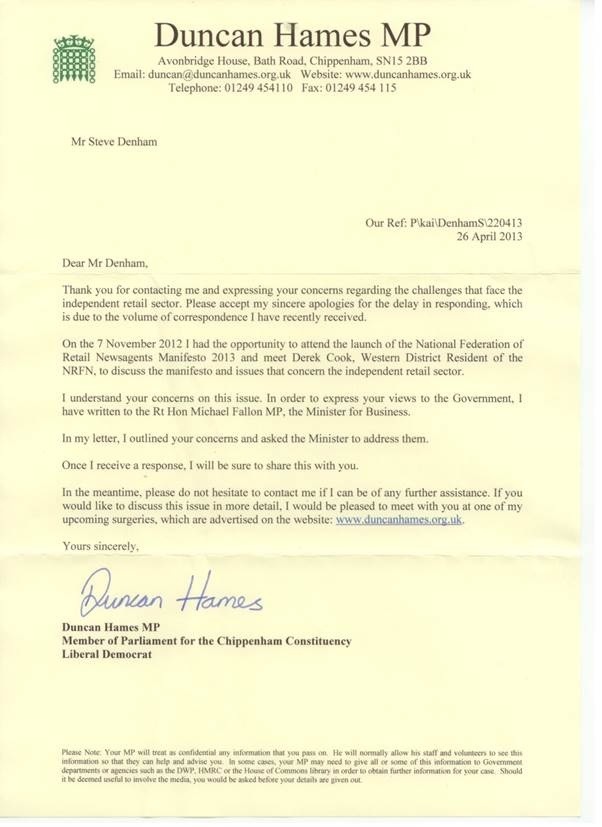 Have you ever written to your MP? I have on many occasions including this email that I send to Duncan Hames, MP for Chippenham .
"Dear Mr Hames
I would like to bring the National Federation of Retail Newsagents Manifesto 2013 to your attention. I have been a member of the NFRN since I started running my own independent shop in 1989 and have always found the Federation to be my friend in the industry.

The manifesto is being launched at the House of Commons tomorrow, 7th November and it represents the challenges that face the newsagent/convenience store owners across the country. There is a huge risk to the channel from many directions. These include falling sales in tobacco and print media, oppressive regulations like the Competition Act that sees no difference between international corporations and micro businesses.
Communities need the colour, variation and passion that many independent community based stores bring with them. Please read this manifesto and ask yourself what you can do to help that the channel survives and thrives.
Yours sincerely,"
In his reply he states that he talked to the Western District President, Derek Cook. Mr Cooks says:
"I did meet Duncan Hames at the House of Commons last November at the launch of the NFRN Manifesto. Mr Hames was aware of the NFRN and supported us in the launch of the Manifesto, especially fighting crime in retail businesses."
It doesn't matter whether you voted for your MP; they are your representative in Parliament. One of their roles is to represent your concerns to Government. On this occasion Mr Hames has written to the Minister of Business Michael Fallon MP. I await his response and will post it here in due course.
I have written to my MP about many different issues over the past couple of decades including Newspaper distribution, Crime, Post Office, Tobacco and the distribution of the Government's Millennium Bug booklet as a newspaper Third Party Insert! I have nearly always got a reply. You can find who your MP is and their contact details on the They Work For You website http://www.theyworkforyou.com/mp/. As a community retailer you do hold a valued position in your community, with an election less than 2 years away it is one that MPs need to foster. Priti Patel clearly has.