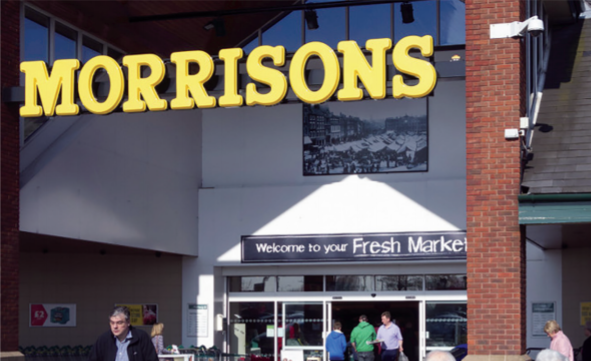 Morrisons has begun offering wholesale terms to stores with more than 1,800 lines in three promotional periods.
Analysis of the 330 lines from the current wave that were also ranged by Booker showed the supermarket's promotional offer to stores is priced 8% lower than the leading convenience wholesaler.
In November, the supermarket discreetly began approaching multi- and single-site independent retailers about wholesale supply, offering more than 15,000 "branded, fresh and frozen products at very competitive prices".
EXCLUSIVE: Morrisons begins offering wholesale terms to independent stores
The multiple has now entered the latest stage of its recruitment drive, sending price files to interested retailers.
The data, seen by betterRetailing, shows pricing of more than 1,800 lines of household brands and Safeway own label.
betterRetailing understands reps from the supermarket have sent the promotional lists to independent retailers in a bid to secure wholesale relationships through competitive pricing.
Just more than 620 Morrisons products are listed in the current promotional period. betterRetailing compared the 330 lines where Booker either ranged the same line or a directly comparable line, such as the same line with a slightly different pack weight. In the latter, the price per 100g was used to create a fair comparison.
Turbulent Morrisons results hint at lockdown trends in multiples
The lines spanned the confectionery, ambient, fresh, chilled and alcohol categories. The total basket from Morrisons cost £4,507.5, 8% cheaper than Booker, which cost £4,871.63. betterRetailing also analysed the difference in cost price on 50 lines in different categories.
In confectionery, Morrisons was 12% cheaper at £693.05 compared to £782.10, while the supermarket was 7% cheaper on alcohol at £1,362.08 compared to £1,467.71.
Morrisons was 4% more expensive in soft drinks, with a basket of £449.10 compared to £429.27.
Morrisons blames McColl's for sales slump
Of the total range, there were also 249 products from Morrisons which did not have a comparable alternative from Booker.
This included an outer of 6x4x275ml J2O Apple & Mango, 8x90g Hula Hoops Flavarings Spicy, and 10x500ml Mr Muscle Bathroom and Toilet Cleaner Spray.
Since the supermarket began its wholesale offering to independents, many retailers had started enquiring about what it could offer them.
One retailer, who asked not to be named, told betterRetailing: "I've been examining how a new supermarket supply relationship can help boost my current offering to customers this year and Morrisons has been one company I've been in talks with.
Stratford Retail Group plans Morrisons Daily conversion
"I am very confident I can get a good product range from them that will impress my customers."
Another store owner added: "The next couple of years are going to be exciting because suddenly more major supermarkets are coming into the independent retail market.
"We've got the opportunity to boost the ranges independent retailers offer their customers."
However, some retailers criticised Morrisons, claiming it had failed to respond to initial queries about wholesale supply. One said: "A rep from Morrisons had approached me, outlining pricing and the products available.
"I was definitely interested, but they've gone quiet since then. I've contacted them several times since and each call and email has not had a response at all."
Morrisons–Amazon partnership grows
Direct seven-day deliveries and low minimum order quantities are available to retailers, and the move marks the supermarket's latest concerted push into convenience, after a deal in 2017 to supply the McColl's convenience chain.
Morrisons isn't the only major supermarket to have opened discussions about direct supply to independent retailers last year.
Sainsbury's, following its supply deal with Simply Fresh, had also begun discreetly approaching store owners.
In Morrisons' latest trading report, annual growth in its wholesale arm for the 22 weeks to 5 January 2021 was 0.9%, compared to flat trading during the same period last year.
Morrisons faces equal pay claim
Annual retail growth in those 22 weeks was 7.2%, compared to a 1.7% decline in the previous year.
David Potts, Morrisons chief executive, said: "Wholesale is also profitable and sales growth was strong throughout the period, stepping up further at the start of Q4 as the remaining McColl's stores not so far covered by Morrisons wholesale supply began to transfer over to us.
"During the period we started to supply 130, with another 100 more to come by March 2021.
"In addition, McColl's has recently reported that it is experiencing significant like-for-like sales growth at the 31 Morrisons Daily conversions and is reviewing the opportunity to convert further stores in the first half of 2021."
Read more Morrisons news