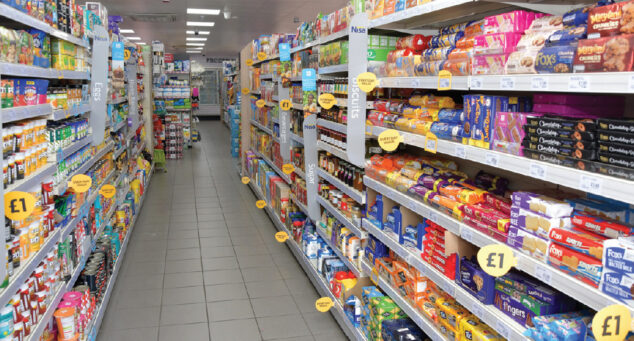 The exemption of independent stores from the newly confirmed advertising ban on high fat, salt or sugar (HFSS) lines will create both opportunities and challenges for local shops, according to experts.
Under the proposals, due to come into force by the end of 2022, products considered to be HFSS, including nearly all the best-selling confectionery, crisps and snacks lines, cannot be promoted online or before 9pm on TV.
Suppliers and large retailers associated with HFSS products can still advertise their brands, but cannot show or promote any product that falls foul of the new legislation. They can also continue to mention their HFSS lines on their own websites and social media accounts.
Government confirms advertising ban on HFSS products
Small businesses, including retailers with fewer than 250 employees, will not be subject to the ban, potentially giving convenience stores and newsagents a near monopoly on advertising many of the UK's best-selling impulse lines.
When ice cream product Little Moons became a craze earlier this year, video adverts helped independent retailers including Amrit Singh and Serge Notay to gain customers from as far as two hours away. After the HFSS ban comes into effect, major supermarkets will be unable to use these same techniques to drive footfall and sales from unhealthy products.
ACS chief executive, James Lowman said online and local advertising played "an increasingly important part of convenience stores' marketing activity" and said it would be seeking 'absolute clarity' on the rules.
HFSS promotions ban 'opportunity' for some small shops
The newly announced regulations are part of the government's overall Obesity Strategy, which also includes proposals to ban many types of in-store promotions on HFSS products and to ban the display of these lines in prominent locations. Though the details are yet to be confirmed, currently, the government intends to again exempt most small retailers.
Despite the opportunities, some warned the exemptions risked making local shops be viewed as 'dens of vice' in a time of heightened health awareness. KAM Media strategy & insights director Blake Gladman agreed, stating: "Retailers have to find the balance between being responsible while also offering customers the opportunities to treat themselves."
HFSS: tougher laws on labels in government anti-obesity plan
Describing the impact of the legislation and consumer health awareness, Gladman said: "The key for retailers is to understand the impact of confectionery's journey from 'everyday' to 'treat' and to merchandise and range their confectionery to meet this." He said this would likely see the ranging mix tilt from counter lines to larger sharing bars and bags.
The advert ban is also likely to make it harder for retailers to predict which new launches are likely to perform best. Research by Newtrade Insight and Kam Media published last month found 50% of stores were more likely to stock a new product if they know it will be advertised on TV, radio or outdoors.