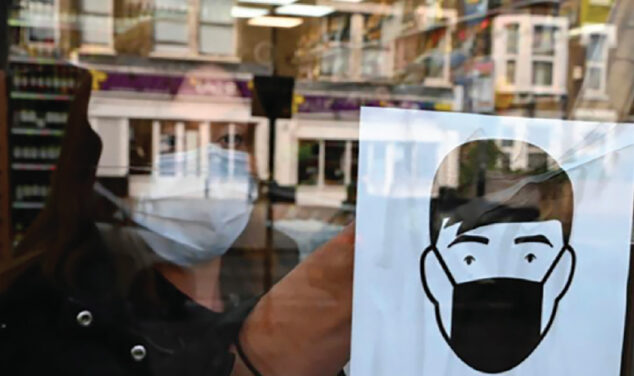 Stores expressed concerns following the reintroduction of mandatory face covering use in stores in England this week.
Prime minister Boris Johnson introduced the measure with just three days' notice in an attempt to avoid the latest Omicron Covid-19 variant from derailing Christmas.
The change means shoppers in England, as in all other parts of the UK previously, can be fined for failing to wear a mask in stores. There is no obligation for stores to enforce customer mask-wearing.
Stores and symbol groups responded by displaying new posters, while supermarkets increased security-guard use and home delivery capacity in expectation of 'flashpoints' caused by the new requirement and potential disruption to shopper habits if further measures – such as a return to home-working and more stringent self-isolation rules – are introduced.
In Scotland, first minister Nicola Sturgeon told the public to work from home, and warned further restrictions were under "close review".
Mandatory face masks in shops from tomorrow to battle new Covid-19 variant
A review of restrictions in England will take place in three weeks.
Alan Mannings, of Shop on the Green in Chartham, Kent, told RN "80% of customers don't wear a face covering", adding that a neighbouring shop that had been enforcing masks had "received a lot of abuse and threats".
The potential for more staff self-isolating combined with general retail staff shortages over the Christmas period was the major risk identified by store owners.
Mike Mitchelson, of Brampton Post Office in Cumbria, added that if cases do rise, he "might have to consider bubbling staff on the rotas to reduce any form of disruption".
Retail expert Bryan Roberts said: "Retailers should expect staff absences. I would advise them to make arrangements if this were to happen."
Katie Jenkins, marketing director at convenience industry analyst KAM media, advised retailers to prepare for a potential return to buying local. She told betterRetailing: "Convenience stores who offer home delivery will see an opportunity there.
EXCLUSIVE: How to enforce face-covering rule in shops
"It is a growth area especially this Christmas, with stores perfectly placed to capitalise on last-minute purchases over the festive period."
Elsewhere in the UK, stores reported ongoing issues with mask-wearing.
Vince Malone, of Premier Tenby Stores & Post Office in Wales, said the biggest issue was with tourists visiting his store and being unaware of the regulations. He added: "Now the regulations have changed in England, it will remove that confusion."
Northern Ireland retailer Eugene Diamond, of Diamond's Newsagents, said he has tried to enforce masks, "but the big problem is that you send people to other shops".
Scottish retailer Mo Razzaq, of Premier Mo's Blantyre, agreed. "People have not been complying," he said.
Trade groups and symbol groups including the ACS, NFRN, One Stop and Nisa have urged stores to refresh their posters and stock up on masks.
Both the NFRN and the ACS have free posters available for stores to download from their websites:
Find out more on our coronavirus information hub for retailers