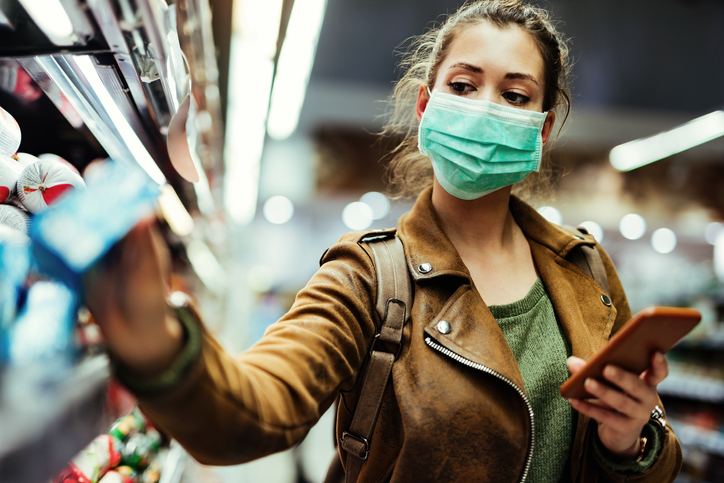 Prime minister Boris Johnson has announced the mandatory wearing of face masks in shops in England from 24 July.
The news comes following a week of uncertainty from the UK government over whether they would officially put the rule into action, four days after Scotland made their decision.
However, retailers have expressed concern over the enforcement of face coverings in their stores, after a lack of guidance from the government.
NFRN assists retailers in Scotland with face mask posters
Those found disregarding the rule are at risk of a fine of up to £100, with the potential of a £50 reduction if paid within 14 days.
Coventry retailer Arif Ahmed said he, and other retailers are in need of clarity over who is responsible for enforcement.
"I've had calls from a lot of panicked shop owners this morning scared that they are going to have to enforce this, there's a lot of confusion."
One Stop increases multi-site franchisees during lockdown
He added the enforcement of the rule by retailers would no doubt result in a rise in verbal abuse against staff.
"I've been verbally abused for asking customers to social distance and while I agree with wearing masks, making customers adhere to it will put shop staff at risk."
Further adding to concerns, in a conversation with the BBC this morning, chair of Metropolitan Police Federation Ken Marsh said it's not the responsibility of the police to enforce the wearing of masks.
"If a shopkeeper calls the police because someone's not got a mask on, they have no power to detain them so that person can just walk away," he said.
Wholesale availability 20% down, but improving
"We'll be driving round and round London looking for people who weren't wearing masks, it's absolutely absurd."
He added police forces should not be charged with overseeing more pandemic rules and retailers needed to "take some responsibility" for their customers.
However, environment secretary George Eustice hit back claiming only the police could issue fines.
"I think when it comes to levying fines and actually having that sanction and issuing a fixed penalty notice of £100, then obviously the police do have to do that," he said.
Indies benefit as UK pubs and restaurants reopen
"But then there's a separate question which is will retailers play a part in this and I think obviously they will, they have a role to play in helping ensure there's compliance."
ACS chief executive James Lowman said he is disappointed no formal guidance has been published by the government to help retailers enforce the rule.
"It's disappointing that this advice has been leaked and suggested over a few days, causing confusion among consumers and retailers, rather than through a clear briefing with formal guidance," he said.
Local councils underprepared for illicit trade rise spurred by pandemic
"We are pleased that the legal responsibility for enforcing this policy will rest with the police rather than shopworkers, but in reality it will be retailers and their colleagues trying to communicate and explain this to people with different views and approached to complying with this policy."
The NFRN and ACS have both produced posters for retailers in response to the announcement to help with enforcement.
NFRN national president Stuart Reddish said: "The poster is a further effort to ensure that our members, their employees and customers remain safe – and within the law – throughout the coronavirus pandemic."
You can download the NFRN poster here
Find out more on our coronavirus information hub for retailers