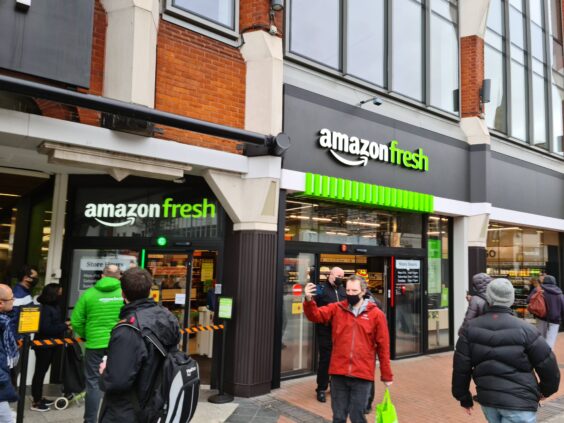 Amazon is using 'opaque' methods to avoid detection as it secretly prepares for the launch of further Amazon Fresh convenience stores in the UK.
Documents seen by betterRetailing show commercial landlords, acting on behalf of the web giant, are filing planning and licensing applications for new sites in several London boroughs to keep Amazon's name out of public records for as long as possible.
This includes one site at 359 Upper Street in Angel Islington, London, and another next to the Tate Modern Gallery in Southwark, London. None of the initial documents filed for either site revealed Amazon's involvement.
An agenda for a licensing meeting in May of this year showed Amazon's solicitors DWF Law were only forced to reveal Amazon's involvement in plans to open the Angel site after the Metropolitan Police, Islington Council and local councillors registered objections to its secretive approach.
"Without full disclosure of the operator… the Licensing Authority cannot be satisfied that the licensing objectives will be upheld," stated the London borough's licensing team.
First Amazon Go convenience store in UK set to open
Despite being foiled in Islington, the same tactics to keep the launch under wraps went unchallenged by Southwark council, which granted a premises licence even without the identification of the operator.
The attempts to keep its planned expansion under the radar went further than council documents. Several industry sources told betterRetailing that Amazon is working towards hitting its targeted UK store count of 30, and is using Potemkin village tactics to keep refurbishments under wraps.
"They are putting false facades in front of the shops that often just look like an independent grocery shop," one claimed.
Amazon Fresh' initial sites included newspapers, much to the surprise of not only the public, but newspaper publishers. Industry experts claimed to betterRetailing that news wholesalers were made to sign non-disclosure agreements and the site account details also disguised Amazon's involvement. The tactic is so successful that betterRetailing understands news publishers are still trying to track down the soon-to-launch sites using circulation data without success.
Automated convenience stores are the future according to Sonae
In a sign of Amazon's determination to expand its 'just walk out' convenience estate, the chain hired a former Metropolitan Police chief superintendent and borough commander, Andrew Bamber, to review its licensing policies and write a supporting statement, which was used to overcome objections raised by local residents.
The licensing conditions placed upon the store also show local authorities adapting to deal with new convenience store formats, such as 'just walk out' technology and the rise of home deliveries.
As well as police-suggested conditions such as a ban on non-premium beers and ciders with an ABV above 6.5%, the Islington store also had a condition on it banning it from fulfilling alcohol-only home delivery orders, and another mandating Challenge 25 messaging on its online ordering sites.
In a sign that 'just walk out' technology could also help stores struggling to achieve an alcohol licence in cumulative impact areas, Amazon successfully argued that entrance barriers, the prevalence of card payments and staff on the shop floor "positively deters problematic street drinkers, drunks or underage customers."
Read more Amazon news