Women in Convenience inaugural event highlights
Over 50 independent retailers and suppliers met last month in Birmingham for the launch of Women in Convenience, an event organised by RN owner Newtrade Media. One in three women who responded to a survey by Newtrade Media earlier this year said they feel they are treated unequally in the sector due to their gender.
Just over half (55%) said harassment or abuse from customers or colleagues is the biggest challenge impacting them, followed by juggling work with childcare or maternity leave (49%); and a male-dominated workplace culture (39.5%).
Other challenges were the expectation for female staff to do menial tasks (25%); not being involved in decision-making (18.5%); and lack of opportunity for progression or training (13%).
Twenty-one per cent stated they don't feel comfortable attending events, with 16% saying they want to attend events, but don't because they don't feel welcome. A further 17% said they don't get invited.
In response, 55% said more needs to be done to promote events to women, with 33% looking for a significant focus on female issues and achievements at events.
Rosie Campbell, professor of politics and director of the Global Institute for Women's Leadership at King's College London, highlighted the positive impact addressing gender inequality can have on businesses.
"Diversity inclusion is central to running an effective business because it helps us challenge how groups think," she said. "It can help improve product service and lead to profitability and higher sales."
Balancing work and personal well-being
Retailers discussed how isolating being a female in convenience can be, and recommended building a support network to help develop confidence in working in a male-centric environment.
A retailer who sold her shop last year explained how having a "friend to reach out to would've really helped" me when she was a retailer.
"I've had a personal mentor for the past three years and it's changed my whole outlook on life," she said.
"Seeing so many female retailers here surprised me, and I would've benefited from knowing more retailers who were women when I was running my store."
Shumaila Malik, who runs a Costcutter in Manchester alongside her husband, added that she was in need of a support system a few years ago when going through a difficult time.
"I didn't have anyone who could relate to all the things I was doing, for the business and my family," she explained.
"Having a support system of women who understand your situation really does help."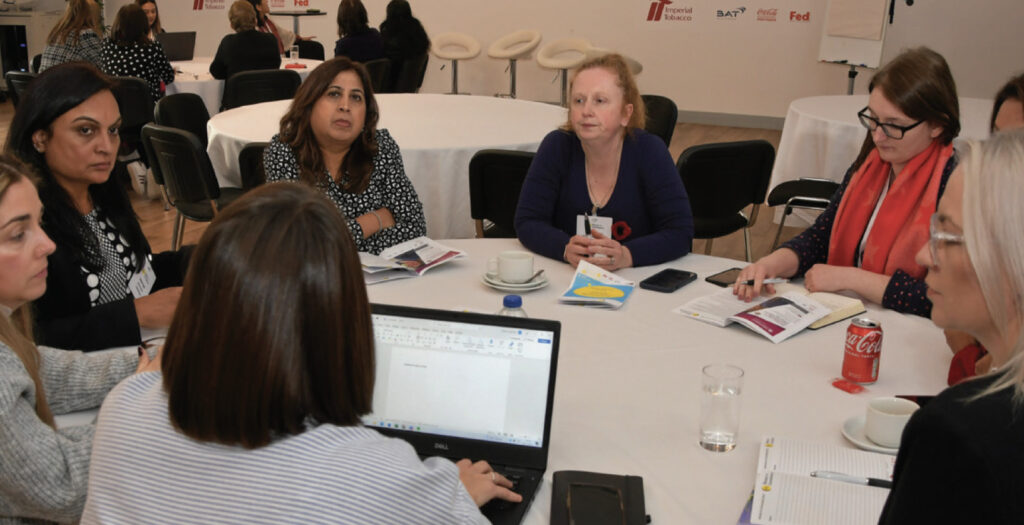 When asked how best retailers can reach out to other females in the sector, Nathalie Fullerton, owner of One Stop Partick in Glasgow, said she met fellow attendee Natalie Lightfoot, owner of Londis Solo Convenience, also in Glasgow, on Facebook.
"Natalie reached out to me after I asked a question on a convenience forum group," she said. "We could relate on a lot of things because we owned a store in the same area.
"This gave me a lot more confidence knowing I knew someone going through the same things as me. We've also socialised together outside of work, which is an added bonus."
Lightfoot added: "I really feel more like myself when I've spent time with others like me."
"I've felt lonely before, but taking the brave step to help myself was the best thing I've ever done.
"Even bouncing business ideas off another female retailer can be far less intimidating, and it helps build my confidence."
Breaking the glass ceiling
Gender-based exclusion, ignorance and perceived assigned roles has been experienced by all of the women in attendance. Breaking the glass ceiling involves destroying stereotypes and ensuring women have an equal place at the table.
Female retailers said that they sometimes found it difficult approaching male retailers because of these challenges.
To overcome this, they said they intend to gain more self-confidence in speaking out, showing they are just as capable of running a business and understanding the trade as men.
One of the ways to achieve this, they suggested, was by hosting more events like Women in Convenience where they could share their thoughts and opinions with like-minded individuals, and build confidence in a safe space.
This, they said, would help boost their confidence at external industry events and feel like a valued member in the industry, as opposed to being excluded from important conversations, or being perceived as 'weak' just because they lack confidence.
One retailer explained that when considering attending events, she found the prospect of going alone sometimes intimidating, which is a challenge she wants to overcome herself.
It's also important to consider that some female retailers might not have travelled the country by themselves before to attend work events – which can be intimidating especially when you know the event is going to be male-heavy – so introducing a 'buddy-up scheme' where women can travel together might be a more comfortable option, and some have practised this in the past.
Finally, one retailer said that in her role as a retailer, her experiences are often ignored, despite being the one who has taken full responsibility in store. She explained how women must go above and beyond to be noticed, and even then, sometimes it isn't enough.
To break this cycle, she said she wanted to be more vocal and celebrate her role, and hoped people would show her the same level of respect.
Tackling industry discrimination
Industry discrimination comes in all forms – from harassment and abuse, to discrimination in the workplace and at industry events.
Anita Nye, of Eldred Drive Stores in Kent, explained she was often dismissed at industry events, and on one occasion when she spoke out about this, was told to "calm down" and asked "is it your time of the month?' She said it isn't about being treated better, but as an equal.
Unfortunately, this hasn't been an isolated incident for Nye, and at the end of another industry event, she explained that all the men gathered around the table to discuss matters and she was excluded from the conversation. "There wasn't many of us there, so it was glaringly obvious," she added.
She explained that, in general, male retailers receive more respect from suppliers and staff members. However, when she is assertive about a situation and calls it out, she is branded as "scary".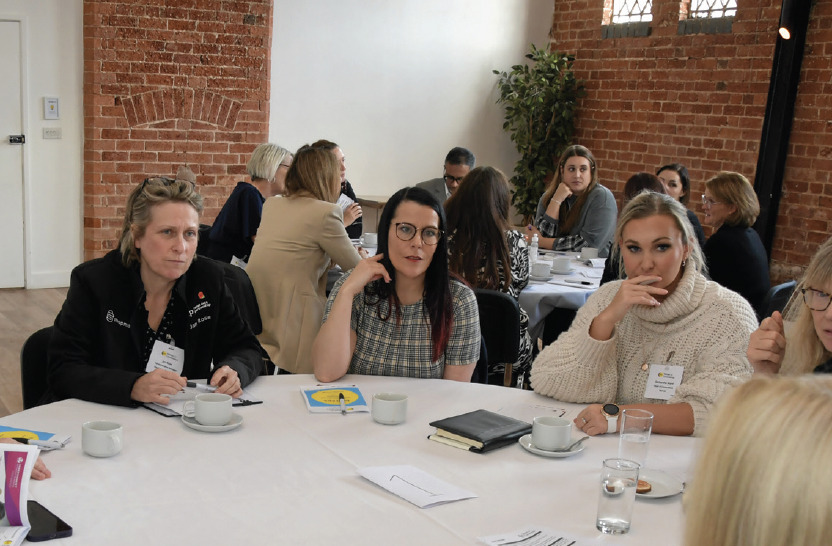 To overcome this, Trudy Davies, who runs Woosnam & Davies News in Powys, said it is important to call out these behaviours – just like Nye did in those cases. "We're perceived as being catty or bossy when we say something. Whereas those traits in men is thought of as a good thing," she said.
Addressing these issues head on will hopefully bring about change. Varsha Pankhania, manager at Nisa Local Paddington in London, said it took a long time for people to know who she was and what she did in store. "It took me a good nine years to get out there and say: 'now you're dealing with me, and I know what's going on' because they don't think you get it."
Another retailer, who preferred to be kept anonymous, said it was about naming and shaming until change happened. She said: "In my opinion, the sector is of a certain culture, and it can be misogynistic.
"You're not always identified with the store, and it bugs me [her business partner] gets invited to all the trade awards and dinners, and I'm not. Trade shows are still a big boys' club."
Supplier support
Industry representatives discussed what steps can be taken to improve representation and empowerment of women within the channel.
It was widely agreed that improved training and education around diversity and inclusion is needed, both in terms of ensuring supplier reps are communicating with retailers respectfully, and female reps receive respect from retailers they visit.
"Can we develop an industry-wide code of conduct, including dos and don'ts covering social media as well as in-person communication," said Samantha Walker, field sales director at Coca-Cola Europacific Partners.
Ideas for addressing under-representation included introducing badges that encourage people to engage with women who are perhaps anxious about attending events, doing more to actively connect female retailers so they can build their own network, and forming working groups to discuss issues, which would include male retailers as well as female retailers,
Suppliers said men have a massive role to play, and male allies would be crucial in helping the industry to drive change.
The Fed's national president, Jason Birks, said the trade organisation was taking steps to encourage more women to get involved. "There's more we can do to support women and make them feel more comfortable at events," he added.
On mental health, well-being and work/life balance, suppliers said it was important to share best practice, so other women can learn from each other. The idea of retailer-to-retailer and supplier-to-retailer mentoring was also suggested, with several suppliers offering to be a mentor for women in the sector.
Raising awareness was an overriding theme. Men don't always understand gender biases as they don't tend to experience it, so better communication and awareness is the first step to realising what changes can be made.
"We can't change deep rooted societal issues, but we can change the way we engage with women in the convenience retail sector," said Samantha Ward, head of convenience retail at BAT. "We have to make sure we're doing it in the right way."
Summarising, Aline Vendeville, UK&I cluster people & culture director at Imperial Tobacco UK&I, said: "It's quite clear that greater gender diversity in the workplace not only enables creativity and innovation, but also helps to create a more open and nurturing environment. Championing women in convenience can help stores to unlock profitable growth opportunities. By offering and advice and guidance on how to forge closer relationships with both their staff and customers, we can help retailers harness these opportunities to ensure shoppers return time and time again."
Building confidence and making change
Mikaela Jackson, founder of She Almighty, which offers business, career and life coaching for women, spoke on the importance of having a voice and using it effectively, as well as understanding the power of confidence.
She suggested ideas on how to build confidence and self-belief, including banishing negativity; being curious and asking questions to gain knowledge that will empower you; having goals and milestones to work towards; working on your communication; and not being afraid of failure.
8 questions to ask yourself*
What are some of the barriers and blocks I have identified that are holding me back and getting in the way of my personal growth, progress, happiness and fulfilment?
If I had all the confidence, self-belief and support I needed, what would be different, what would I do and what would I make happen?
What does meaningful and exciting progress look and feel like for me? What would enable me to thrive both professionally and personally?
How can I affect this progress and change. What could I do and what's in my control? What support might I need?
What actions will I commit to that will make a difference for me and for others? How will I prioritise my ongoing progress?
What empowered narratives, beliefs and behaviours will support my journey?
What can I celebrate myself for today?
What is my most important takeaway from this exercise. What is my pledge?
*From She Almighty founder Mikaela Jackson
3-point plan
Improved training and education focusing on diversity and inclusion across the entire supply chain
Don't be afraid to use your voice to take steps to develop your confidence and self-belief
Create a 'safe space' of fellow female retailers and continue sharing experiences
Find out more about our Women in Convenience initiative or email marketing@newtrade.co.uk