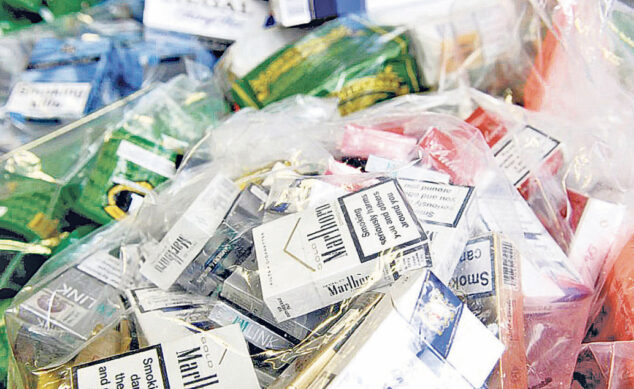 A "groundbreaking" tool in the latest fightback against illicit tobacco is to be spearheaded by new track-and-trace (T&T) operator Dentsu Tracking, betterRetailing can reveal.
The Swiss firm has been appointed by HMRC to replace De La Rue as the operator of the tobacco system from July on a five-year contract. The firm has previously operated similar T&T systems for other governments across Europe.
Launched in May 2019, T&T requires businesses involved in the supply of cigarettes and hand-rolling tobacco to have an economic operator identifier code (EOID).
Tobacco products transported and sold through the UK will have a barcode with the EOID. Any code that isn't recognised by T&T will generate a warning that the product could be illegitimate.
As part of its appointment, Dentsu will operate a database of registered suppliers, with the aim of giving police forces and trading standards authorities more resources to detect and clamp down on dodgy tobacco sellers.
Dentsu Tracking set to be new track-and-trace operator
The database will provide detailed information on the invoicing, ordering and payments of registered products. A "mobile inspection tool" will also be provided to authorities, allowing them to check the legitimacy of products while in their hands.
Combined, these methods will provide real-time alerts to the police if tobacco is potentially being sold by an illegal trader. The database will only include information about registered suppliers, but not those who are unregistered.
betterRetailing first heard about the database at the National Business Crime Conference in Nottingham six months ago.
At the time, information about its release date could not be given, but it was described by City of London superintendent Patrick Holdaway as "groundbreaking".
Commenting on this latest development, Holdaway told betterRetailing: "There is already a system in place, but in our experience, the capability is limited. The new system will work much better and we hope that it can be used to reduce crimes involving tobacco.
"We know that much of the stolen stock is sold back through retailers. If they know that the stock can be identified as stolen through T&T, they won't risk trying to sell it. Of course, we also need trading standards to follow up and be seen to be checking the product."
When asked how its database will help retailers avoid illicit stock, Dentsu Tracking director of government business Jan Hoffman told Retail Express the company "brings a wealth of experience and expertise in supply chain control". "We are thrilled to team up with HMRC in their fight against the illicit tobacco trade, delivering a T&T system tailored to the specifics of the UK market," Hoffman added.
"The system provides HMRC with a high level of government control over the tobacco supply chain, allowing enforcement bodies to detect the different forms of illicit trade and curb the circulation of noncompliant products."
The latest figures from the Tobacco Manufacturers Association revealed that illicit tobacco was still a major problem in the UK.
Geek Bar demands action on illegal vape products
In a poll of more than 12,000 smokers in November and December, 71% said they had purchased tobacco that avoided UK tax.
A fifth of smokers claimed to have bought non-plain-pack cigarettes, while 19% said they had bought tobacco from social media – compared with 4% before the pandemic.
Commenting on how the firm plans to work with Dentsu, Imperial's anti-illicit trade manager, James Hall, said: "Imperial is working closely with HMRC and Dentsu to ensure the system is ready and all of the existing data is correctly migrated to aid a smooth transition from the existing provider to the new system.
"The system, alongside other anti-illicit measures, work together to help authorities identify legitimate products along their journey, as well as illicit products as and when they appear within the supply chain.
"The new system should help tackle illicit products. But, as with most things, there is not one solution to every problem, and there is more work to be done on the ground to track, monitor and take action against criminal activity that undermines traders who are operating responsibly."
Philip Morris Limited, JTI and British American Tobacco were unable to provide comments in time for press.
Read more illicit tobacco news and articles