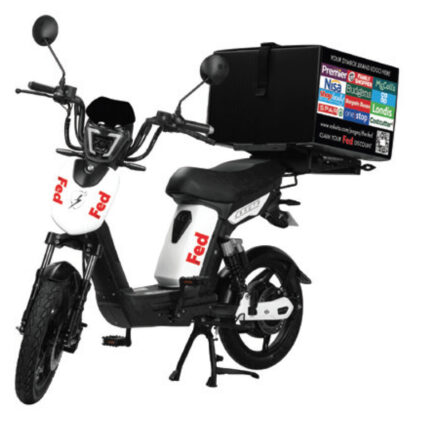 The Fed has teamed up with e-mobility brand Eskuta to offer retailers an exclusive £300 saving on its climate-friendly e-bikes to boost deliveries as fuel costs rise. 
The deal includes Eskuta's SX-250 model, and is aimed at store owners looking to start a grocery delivery service or expand their current offering, while reducing operational costs and improving their carbon footprints. 
The Fed's national president, Jason Birks, said: "This is another great deal for Fed members. With fuel prices rising all the time, an e-bike can save retailers a lot of money on deliveries, and it is also good for the planet."
The bike is built using motorcycle-grade components, and is legally classified as an Electrically Assisted Pedal Cycle (EAPC), which means it can be ridden anywhere a regular push-bike can.
Reach partners with The Fed to offer exclusive subscription campaign
For operators of delivery services, this may result in quicker delivery times because drivers won't have to sit in traffic.
EAPC status means the SX-250 doesn't require any tax, licence or insurance, and anyone over the age of 16 can use it.
Eskuta's managing director, Ian O'Connor, said: "Demand from customers for convenience stores to offer a delivery service is higher than ever, and is fast becoming an important revenue stream, so we are delighted to be able to offer Fed members this exclusive deal.
"Our aim is to empower store owners to take control of their own delivery services and not rely on costly third-party companies.
"An Eskuta e-bike provides a cost-effective, sustainable and easily scalable way for independent retailers to expand their businesses and offer this service to their local community." 
Retailers urge government to rethink plastic-bag ban
The Fed's national deputy vice-president, Mo Razzaq, who recently purchased one of the Eskuta bikes through the deal to carry out deliveries, said: "The SX-250 is really good. It's quicker on deliveries because you don't have to worry about finding a parking space and you can take shortcuts. It saves around 40% of our time."
He added: "It's a bargain when you compare it with the running costs of a car or van.
"One year of petrol costs will pay for the bike, and you are also saving the environment."
With the deal, independent retailers will be able to buy one of Eskuta's electric delivery bikes for £1,350+VAT, compared to the RRP of £1,662+VAT.
There is also a custom-branding option for store owners to apply their store's own logo to the bike itself or delivery box to achieve recognition for their delivery service among their local community.
Read more The Fed news and articles