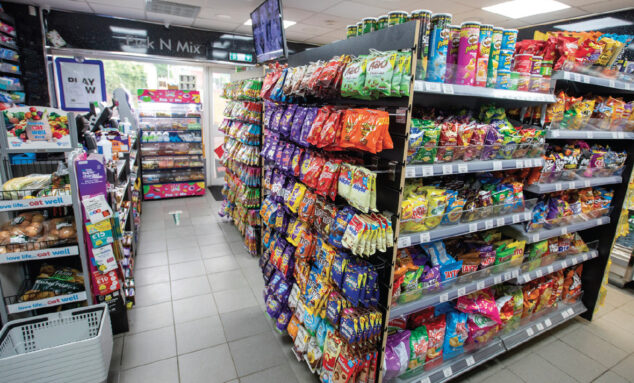 Retailers are still pushing on with major changes to comply with anti-obesity legislation in their stores, despite claims it's due to be scrapped just weeks ahead of implementation.
Last week, The Guardian reported that high fat, sugar and salt (HFSS) legislation, due to be implemented at the start of October, could be scrapped as part of an official review. New prime minister Liz Truss has reportedly been looking to ditch many regulatory policies set by her predecessor, Boris Johnson. 
betterRetailing understands the government has commissioned this recent review due to rising economic pressure faced by businesses, while remaining committed to tackling obesity.
How are retailers preparing for the incoming HFSS legislation?
It will continue to hold full public consultations on the policy and consider any available evidence.
Once implemented, stores in England and Wales with a sales floor measuring 2,000sq ft or more will be banned from displaying products in areas such as gondola ends and by the till. Restrictions limiting multibuy offers are also to be imposed from October next year.
Retailers have spent a significant amount of time and money over the past year changing their stores in preparation for the legislation. However, affected shop owners told betterRetailing they would keep any alterations made to their shop layout despite potential last-minute changes to the regulations.
Anish Panchmatia, of One Stop Wylde Green in Sutton Coldfield, West Midlands, told betterRetailing he had spent £100,000 on refitting his store to meet HFSS restrictions. He said: "I'm not annoyed that I've spent this money being compliant with something that may not go ahead. When I refitted in May, I knew I had time in the months leading up to October to make use of the opportunity to grow other categories. 
Stores seek more HFSS support from wholesalers
"We've got people addicted to the really good offers at the front of the store in other categories, such as household. Even if HFSS doesn't go ahead, we won't stop that, but instead we'll mix with products such as soft drinks so there's a balance."
Alan Mannings, of Shop on the Green in Canterbury, Kent, called the potential changes "laughable". He said: "Personally I won't be going back on the changes I've made. I got rid of my display cabinets and moved confectionery and crisps from the till. I spent hundreds of pounds in doing so, and planning it and putting it in place took a good few days out of my business that could have been spent elsewhere." 
At this stage, HFSS is still set to go ahead in October as the government has yet to make a formal announcement over the legislation's future.
Read more HFSS news and advice for retailers