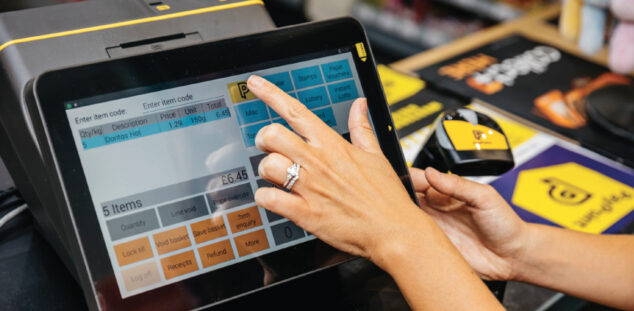 PayPoint has revealed a year-on-year parcel transaction growth of 60.5%, driven by investment in 'print in store' technology, according to its latest financial results.
The service provider published its trading update for the three months ended 30 June today. In doing so, the firm announced its latest partnership with Wish.com, enabling parcels to be delivered to initially 60 partnered stores, building to over 2,000 Collect+ sites over the coming months.
In addition, PayPoint's Amazon returns rollout has expanded to 2,000 sites, enabled further by the implementation of its Zebra label printer. Usage of which continues to grow, with 3.2 million labels printed in the first quarter.
Outside of parcels, the number of UK retail network sites has increased to 28,341 (31 March 2022: 28,254), with PayPoint One sites up to 18,251 (31 March 2022: 18,120).
PayPoint launches 'Refer a Retailer' scheme
Overall, UK retail services net revenue rose by 11.0% to £7.4m, with increases in service fees from PayPoint One. Card payment net revenue also increased by £0.4m, driven by a switch to a one month rolling contract proposition which delivers higher revenues than the previous proposition, but with an accelerated depreciation in costs.
However, total card payment sites reduced to 31,846, but PayPoint One sites increased to 18,251. Counter Cash is now live in 4,112 sites, with over £7.5m withdrawn in the quarter through this new service, offering access to cash over the counter and contemplating its existing ATM estate.
PayPoint chief executive, Nick Wiles, said: "Whilst early in our financial year, we have continued to build on the strong momentum across the group and remain confident in delivering further progress in the current year. Our focus remains on the delivery of our strategic priorities and a strong operational performance, while maintaining a tight control of our cost base.
"In shopping, we have made further progress in improving engagement with our retailer partners and key trade associations as we enhance our proposition, with the rollout of a number of key initiatives including Counter Cash, FMCG campaigns and a strengthened card proposition.
"In e-commerce, our parcel volumes remain strong, reflecting the strength of our out-of-home network, the breadth of our carrier relationships and the investments we have made in technology and the in-store customer experience, with a number of new opportunities coming on-stream, including our partnerships with Amazon returns and Wish.com.
PayPoint freezes service charges until next year
"In payments and banking, we continue to diversify our digital payments client base and strengthen our channel-agnostic payment platform as we expand the range of digital solutions we can deliver to support our clients across multiple sectors, including government, local authorities and housing associations.
"Our recent partnership and investment in OBConnect, a leading open banking software platform, adds to our capabilities in this area and immediately creates the opportunity for us, working with Pay.UK and the payments systems regulator, to offer the confirmation of payee name checking service to our local government and energy company clients to enable the secure delivery of cost-of-living support payments to financially vulnerable people across the UK.
"We remain confident, despite some continued headwinds, of the progress we are making in the transformation of our business as we take advantage of the accelerated growth opportunities across our key markets."
Read more PayPoint news