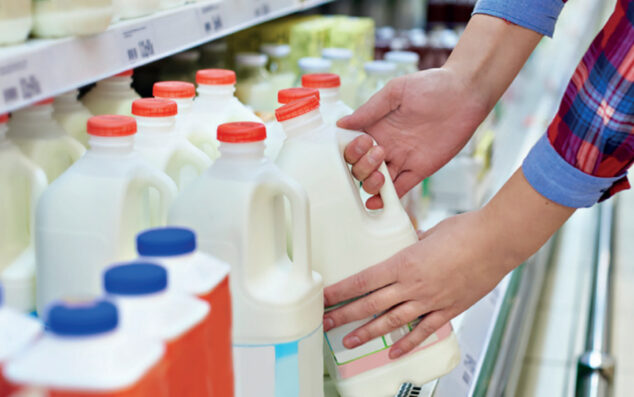 Independent stores have been hit with a raft of new monthly price hikes as dairies attempt to offset costs to battle the latest farming production crisis.
In the past week, the industry has warned the price of dairy products could rise by more than 50% due to inflationary pressures in the supply chain, largely driven by Brexit and the Ukrainian crisis.
Leading supplier Medina Dairy became the latest supplier to implement increases last week.
NFRN vows to increase support for Republic of Ireland retailers struggling with cost-of-living crisis
In a letter sent to stores last month and seen by betterRetailing, the firm said it would be raising prices to stores by three pence per litre from 3 April, as well as two pence per litre to farmers, effective 1 April.
Mitz Patel, owner of Meet & Deep News in Twickenham, said the increases have forced him to source milk elsewhere.
"The rises have really hit my business," he said. "We don't have many choices. We either up our prices or find a cheaper supplier. The thing is, it doesn't seem a lot at first, but it does all add up."
Popular dairy Freshways was also forced to begin implementing increases last October. Managing director Bali Nijjar told betterRetailing that suppliers are having to raise costs to "keep up with farm raw milk prices".
Milk price table
2 LITRE WHOLE /
SEMI SKIMMED
1 LITRE WHOLE SEMI / SKIMMED
PINT WHOLE / SEMI SKIMMED
National delivered cash & carry wholesaler
National delivered cash & carry wholesaler
National delivered wholesaler
MILK SUPPLIERS
RRP
WSP
RRP
WSP
RRP
WSP
Cravendale
(Arla Foods)
£1.49
£1.92
£0.85
£0.97
N/A
N/A
Muller
(Bestway)
£1.10
£1.06
£0.75
£0.75
£0.59
£0.55
Freshway
£1.20
£1.20
£0.90
£0.87
£0.60
£0.60
Medina Dairy
£1.60
£1.25
£1.10
£0.89
£0.60
£0.59
Wells Farm Dairy Limited
£1.20
£1.31
N/A
N/A
£0.60
£0.50
Own Label
(Bestway)
£1.40
£1.38
N/A
N/A
N/A
N/A
DISCLAIMER: Prices accurate as of 4 April, prices may vary by region. Rebates, delivery costs and membership fees not included. All prices are inclusive of VAT. Minimum or maximum orders may apply
"I've been in the industry for 35 years, and I've never seen anything like this," he said. "We have had to increase our cost to farmers by 14 pence per litre over the past six months, and it's only going to get higher."
Nijjar warned the crisis is likely to get worse as the year goes on.
"Farmers are experiencing exceptional cost increases," he said. "They are only going to face more challenges as we enter the spring because they need to put fertiliser down, which has increased from £200 per tonne to more than a thousand pounds. On top of this, there is also a supply shortage of it.
Grocery prices continue to rise to near-record levels
"Independent retailers are the ones who will feel the brunt of this because they, too, need to offset their own costs."
Samantha Coldbeck, of Wharfedale Premier in Hull, said she has accepted customers are going to "have to get used to much higher food prices".
Read more cost-of-living crisis news and advice for retailers