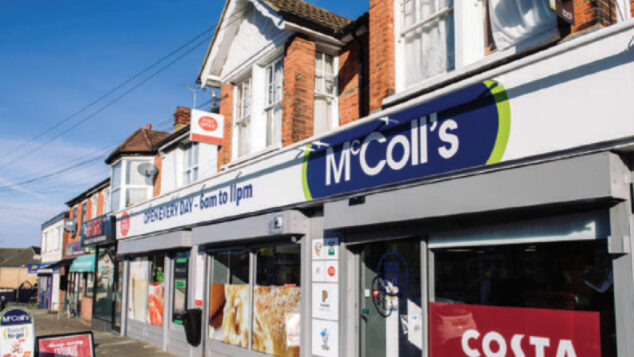 Thousands have been left without vital in-store services from McColl's stores, despite the struggling convenience chain being rescued from collapse by Morrisons last week.
The supermarket officially announced it had acquired the company on 9 May, three days after it filed for administration, despite being rejected first time around.
As part of the deal, Morrisons will take control of the 1,160 stores, which includes 270 Morrisons Daily sites.
All 16,000 employees will also be transferred to Morrisons.
The stores will continue to trade, and its wholesale agreement with the chain will not be interrupted.
Morrisons chief executive David Potts said: "Although we are disappointed the business was put into administration, we believe this is a good outcome for McColl's and all its stakeholders.
UPDATED: McColl's saved from collapse by Morrisons
"This transaction offers stability and continuity for the McColl's business and, in particular, a better outcome for its colleagues.
"We all look forward to welcoming many new colleagues into the Morrisons business and to building on the strength of the Morrisons Daily format."
Reports claimed the multiple had beaten Asda owner EG Group to the purchase at the eleventh hour. The deal will be completed as a pre-pack administration, meaning Morrisons will buy McColl's after it enters insolvency. 
Secured lenders and preferential creditors will also be paid in full as part of the deal.
The bid follows a series of issues across the year for McColl's.
McColl's warns of shares suspension after rescue talks delay
In March, Jonathan Miller announced his shock departure as chief executive after 30 years with the company, as McColl's was in discussions to secure emergency funding.
More recently, the company admitted it was receiving credit support from commercial partners and would temporarily suspend shares on 1 June.
Reports had stated that McColl's announced it would pause the rollout of the Morrisons Daily fascia to protect its cash flow.
In-store services
Although Morrisons' rescue of McColl's will provide a lifeline to communities who relied on the stores for groceries, betterRetailing understands PayPoint, and National Lottery services remain suspended until the takeover is complete.
A spokesperson for Camelot confirmed its services across 800 McColl's stores remain off, while it carries out "discussions with the administrator to determine next steps".
They added: "This is in line with Camelot's primary duties as operator of the National Lottery to protect the flow of revenue to good causes and ensure the payment of prizes to players."
PayPoint also announced it had "regrettably" switched off services across all stores, but reassured customers "there are still more than 27,000 PayPoint stores across the UK providing vital services at the heart of communities, including bill payments, cash out and parcel delivery".
A spokesperson said: "However, as a takeover looks to have gone through successfully, we much hope to work with the new owners to reinstate these services soon."
PayPoint services had been unexpectedly suspended in McColl's stores in March, but had resumed a day later after the suspension.
OPINION: What is the future of McColl's and can it survive its tumbling share price? – Bryan Roberts
However, the Post Office (PO), which has branches in more than 500 McColl's stores, confirmed its services had not been affected at any point last weekend.
A spokesperson told betterRetailing: "We've worked closely with McColl's stores over the past few weeks and will continue to do so as the administration process continues."
They added: "Post Offices that are located within what were previously McColl's-owned stores continue to operate as normal."
One retail expert said a collapse could have caused a significant impact on government funding of the PO network.
In 2021-22, PO received £227m in government support, providing most of its estate was near rural and deprived urban areas.
Newspaper and magazines
Retail expert David Gilroy told betterRetailing that McColl's problems stemmed from a focus on the declining newspaper and magazines category. "If you're running a CTN format as a family business, it's fine because the overheads won't be as big," he said.
"However, it's a struggle if you're doing it on the scale that McColl's did."
Wessenden Marketing managing director Jim Bilton added: "Its long-term morphing from an old-style CTN into a convenience retailer is indicative of the changing shape of the news and mags universe, although some major mistakes were made along the way.
EXCLUSIVE: PayPoint suspends bill payment services in McColl's stores
"It had a 3% share of the category's retail sales. It would be significant if it were totally lost to the industry, but it would not put any publishers out of business on its own."
One wholesale expert added that, although a focus on food to go in some stores alongside the Morrisons Daily format showed McColl's had recognised it needed to move away from news and mags, it was doing so too slowly. "Not all the McColl's estate was performing badly. The Morrisons Daily sites were doing really well because they had growing categories such as food to go," they added.
"However, these were only a small part of the total estate and McColl's spent too long making the rest of its portfolio follow."
Convenience impact
The Morrisons deal is a relief for all those involved with McColl's. However, Mo Razzaq, of Premier Mo's in Blantyre, Lanarkshire, said the events are a warning about the stability of the convenience industry if no further support will be provided.
Speaking to Channel 4 News when McColl's announced its administration, he said: "The cost of electric and gas is causing a huge issue, [as is] the cost of petrol and diesel.
"McColl's is the tip of the iceberg, and there's more to come. Not enough is being done for the retailer."
Read more McColl's news and articles