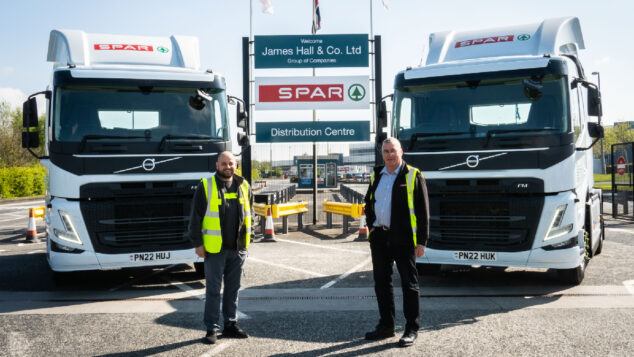 Spar wholesaler James Hall & Co. has added three Volvo Euro 6 tractor units to its fleet as part of its efforts to reduce its carbon footprint.
The new units are the first in the wholesaler's fleet to be equipped with an Ecodrive refrigeration system.
These are powered by the electronic generator driven by the tractor unit engine as opposed to separately by the trailer's diesel generator.
It is anticipated the purchase of the new units will result in an annual reduction of eight tonnes of carbon dioxide.
Booker retailers save over 300,000 meals from going to waste with Too Good to Go
James Hall & Co. plans further investment into reducing the carbon footprint of its fleet later this year and in 2023, with the delivery of its first refrigerated fully electric articulated trailer as well as further tractor units and rigid trucks with lower carbon emissions.
Ian Farnworth, fleet engineering manager at James Hall & Co., said: "Given that they are amongst our longest-distance vehicles delivering six days a week across the North of England, their improved efficiency and performance will make a considerable difference to our carbon footprint.
"It is an exciting period for the fleet here at James Hall & Co. Ltd as we accelerate our sustainability plans, of which, our fleet of delivery vehicles are a major part."
Read more product news