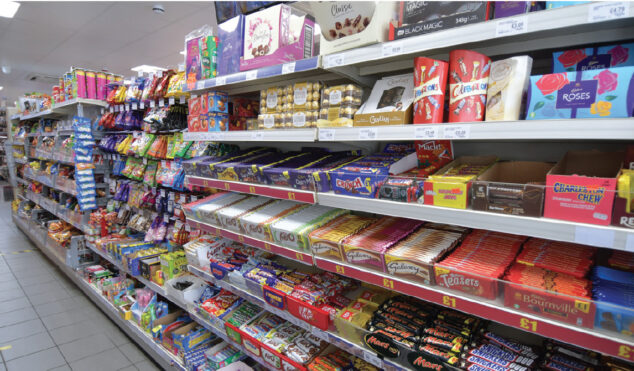 Retailers have urged their wholesalers and suppliers to provide more clarity over high fat, sugar and salt lines (HFSS) in England, as confusion remains over which products are exempt. 
At the start of October, government HFSS legislation will restrict the placement of products such as confectionery, crisps and other impulse lines in convenience stores measuring 2,000sq ft or more. The measures, designed to tackle obesity, will mean retailers cannot place these products by the till and gondola ends. Promotional restrictions banning multibuy offers have been delayed until October next year. 
However, retailers are still confused about which products will be impacted and have urged their symbol groups and wholesalers for more assistance.
Anish Panchmatia, of One Stop Wylde Green in Sutton Coldfield, said: "There's confectionery, but there's other items such as tea and coffee, and pasta sauces with high sugar, that we don't know if they are compliant or not. 
OPINION: HFSS exemptions are key to fair implementation – Pete Cheema, chief executive, SGF
"At the manufacturing end, there needs to be a simple stamp on a product to say whether an item is compliant. We've spoken to One Stop about upgrading their IT system so that when we reorder, the system will tell us whether an item is HFSS-compliant or not. 
"I carried out a £150,000 refit recently and had an end gondola display of tea and coffee, but it turns out some of the sachet products are not HFSS-compliant."
Dee Bee Wholesale trading director Andy Morrison expressed similar concerns about the legislation. He added: "This is indeed an issue we have already flagged internally, but a lot of the solution lies with manufacturers. We're hoping suppliers flag compliance on the packaging and product. 
"We are aiming to flag compliant products on our website, but that's a very labour-intensive process, even if we can get the detail out of suppliers. It adds considerably to our costs."
Similarly, Nisa and Parfetts have also ramped up their support. A Nisa spokesperson said: "Our product catalogue and promotional briefs will flag those products that are non-compliant with HFSS, and over the coming months, both leading up to and beyond the introduction of the new regulations, we will continue to talk to our retailers and ensure they are aware of the impact." 
Parfetts head of marketing Jamie Ferguson added: "HFSS has not been an issue for our retailers because they fall under the 2,000sq ft rule. However, due to the success of our offer, we are now starting to attract retailers with larger stores and will proactively work with them to ensure they optimise their retail operations while adhering to the HFSS regulations." 
Read more HFSS news and advice for retailers