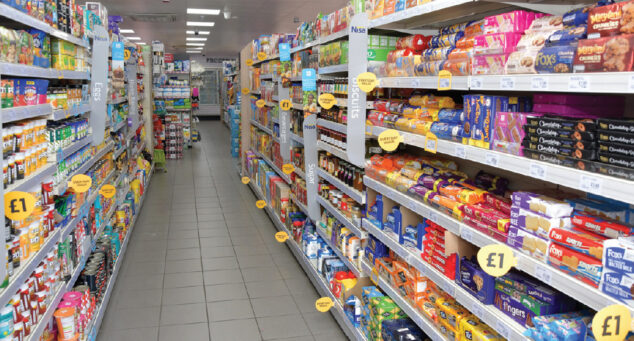 High fat, sugar and salt (HFSS) product reformulations will help stores determine refit plans sooner than expected, a leading retail expert has revealed.
The government's anti-obesity law comes into force in October, and will limit the promotion and placement of products such as chocolate, crisps and soft drinks. Stores with 50 or more employees, but under 2,000sq ft, will be exempt from location restrictions.
In a bid to not be impacted by restrictions, food and drink suppliers have begun launching brand reformulation strategies in the past two months, making key lines available as non-HFSS.
Britvic
In February, Britvic announced it was reducing the sugar content across its Rockstar energy drinks.
KP Snacks
KP Snacks also confirmed it would be reformulating lines in the Tyrrells, Popchips, Hula Hoops Puft and Penn State ranges.
PespiCo
The brands join PespiCo, which intends to make 50% of its Walkers sales lower-calorie or healthier products by 2025.
Pladis
Pladis, which has given Go Ahead Fruit & Oat Bakes a non-HFSS recipe.
Nestlé
Nestlé has launched non-HFSS Shreddies The Honey One.
CCEP
Coca-Cola Europacific Partners also confirmed to betterRetailing last week that 86% of all its soft drinks brand ranges will be non-HFSS by October.
Retail expert Brian Roberts told betterRetailing the reformulations are "encouraging" and suggested "there might be less impact on the placement of soft drinks and snacks" as a result.
Carabao to launch non-HFSS Mango Burst in mid-May
"Things are looking a lot less bleak than they did a few weeks ago," he said. "Retailers will now be able to put a far bigger variety of soft drinks and snacks on aisle ends than they first thought."
However, Roberts warned confectionery remains a challenge. "I'm worried about confectionery because reformulated chocolate, for example, generally can taste quite terrible from a consumer perspective," he said.
"For a lot of brands, reformulation will be a great opportunity, but for confectionery brands it is a big risk if the product bombs.
EXCLUSIVE: Government fails to clarify HFSS rules for symbol stores
"Instead, they are having to face a drop in sales and rely on the loyal customers who will go to wherever they need to in the shop to get a chocolate bar."
When asked how retailers can prepare for a refit ahead of HFSS, Roberts said: "Wholesalers and suppliers have a lot of work to do in terms of point of sale and on-pack advertisement. Retailers should speak to them about their plans as this will help them, especially when it comes to product placement."
Read more HFSS news and advice for retailers