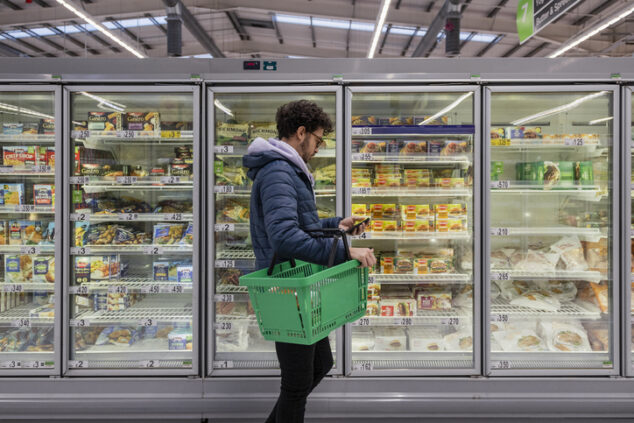 Independent retailers have reportedly seen the price of everyday staple products increase, on average, by 20p in the past month, adding to the cost-of- living crisis.
Latest figures from the Office for National Statistics, published last week, showed sales volume across retail fell 1.4% in March, faster than the 0.5% drop experienced in February.
Inflation also reached 7% last month, marking its highest level since 1992 – and it's forecast to rise further following a surge in household gas and electricity prices.
Graeme Pentland, owner of Ashburton Village Store in Newcastle upon Tyne, told betterRetailing popular everyday items, including milk, bread, tea and coffee have gone up across the board by 20p, on average.
OPINION: How can the FWD help independent retailers through the tough times ahead? – James Bielby, chief executive
"It's really affecting sales," he said. "Everything in the shop has gone up by about 20p in the past month, particularly across staple lines.
"People are the wariest of prices they've ever been and there's nothing we can do about it."
He added he was experiencing rises on alcohol after being informed by his local supplier that it would be increasing the price of its wine cases by £10.
"Rises like this really hurt independents," he said. "Realistically, I should increase the retail price I'm selling it for, but I can't because it'll damage my sales. I'm really feeling the pinch."
Samantha Coldbeck, owner of Wharfedale Premier Convenience in Hull, told betterRetailing the constant price rises have forced her to prioritise margins in every decision she makes.
EXCLUSIVE: Unprecedented milk cost rises hit indies: six leading suppliers compared
"Of course, I've always considered my margin return, but as of late I have to think about it all the time," she said.
"If a product on our shelves isn't making us enough money, then I need to think about what it needs to be replaced with to make it worth taking up the space."
In response to rising costs, The Fed's national president, Narinder Randhawa, told betterRetailing: "The focus of The Fed is always on helping our members save and make money and do business easier. While this is obviously a challenge in the current economic climate, Fed members do have access to a number of benefits.
Grocery prices continue to rise to near-record levels
"Our partnership with Bionic to secure the best energy and broadband contracts, and exclusive deals with Barclaycard and Fuelwise, give retailers the chance to reduce their overheads.
"We've also run several promotions with wholesaler Booker.
"On the political front, we continue to press the UK and devolved parliaments to help independent retailers ease the burden of increasing costs.
"Unless we receive an appropriate response, more shops will be forced to close for good, which will be damaging for the communities that rely on them."