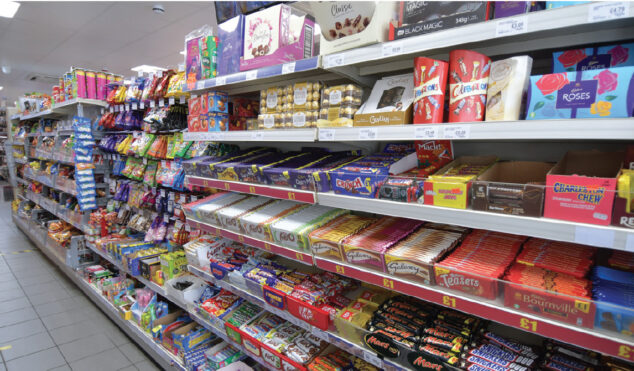 The government has yet again failed to provide clarity on the inclusion of symbol groups in its high fat, sugar and salt (HFSS) legislation, despite publishing "long-awaited" guidance.
Last week, the Department of Health and Social Care released guidance on the anti-obesity legislation coming into force in October, which will limit the promotion and placement of products such as chocolate, crisps and soft drinks.
Stores with 50 or more employees, but under 2,000sq ft, will be exempt from location restrictions prohibiting the placement of HFSS products by areas such as the till. They will be included in promotional restrictions, preventing them from advertising multibuy offers.
The location and promotional restrictions will impact stores of more than 2,000sq ft and with more than 50 staff. Unaffiliated retailers with fewer than 50 employees will be exempt, regardless of store size.
HFSS criticism
The restrictions have previously been unclear in whether symbol group retailers will be exempt, due to being part of a larger group with more than 50 staff.
Although the latest guidance provides more clarity on promotions and the "sell-through" period on prohibited items, it has been criticised for failing to remove the confusion over symbol groups.
It stated that the number of employees should be based on the business "in its entirety".
ACS chief executive James Lowman said: "We encourage retailers to start making preparations now for how they're going to adapt their businesses to stay on the right side of the law from October, to consult with their symbol groups where applicable and to engage with their suppliers as much as possible.
"The guidance provides a lot of answers for the overall introduction of the rules, but there is still a lot of interpretation that will be left up to enforcement officers when the regulations come into force."
Walkers aims for 50% non-HFSS sales by 2025
Avtar Sidhu, who operates a 2,000sq ft Budgens in Kenilworth, Warwickshire, criticised the government for potentially making retailers wait until the "eleventh hour" to make changes. "The restrictions will have a major impact on the industry as a whole, but the lack of clarity means retailers won't have enough time to prepare," he told betterRetailing.
"Six months isn't enough. It takes a long time to alter your store layout to comply with the legislation. Shopfitters will also have jobs queuing up from retailers who want to change their store for compliance."
Other key guidance from the government's document stated that non-compliant stores will be issued an improvement notice, escalating to potential fines if no action is taken. Products that cannot be improved once HFSS is introduced will have a 'sell-through' period until October 2023.
Symbol group support
Symbol groups told betterRetailing they have been conducting trials in companyowned stores to examine the impact of HFSS. Spar UK retail director Ian Taylor said the company has been working with suppliers to understand which products are compliant, while also reformulating its own-label range.
"We have consulted with our lawyers and advise every retailer who could be impacted to do the same," he said.
Nisa's retail development managers have also been visiting stores to gather information on shop size and staff numbers to determine the potential impact of HFSS on its estate. SimplyFresh is also working closely with Costcutter and the ACS on the restrictions.
OPINION: HFSS will affect us all – Alan Mannings, Shop on the Green
A Bestway spokesperson added: "[We have] appointed a HFSS working group, which will be working closely with its retail partners and franchisees to evaluate the potential impact of the legislation.
"We will be supporting our partners who are affected by this legislation and our HFSS working group will be an important vehicle in determining how we do this." Unitas Wholesale managing director John Kinney said HFSS will affect fewer than 5% of the Today's and Lifestyle Express stores in its estate.
He told betterRetailing: "Our priorities are to gain information from suppliers on which products will be affected, and understand how non-compliant products may change core-range guidance. "Many small stores can display and promote impulse products that larger stores cannot, and they need to ensure they are aware of the opportunity this presents."
Read more HFSS news and advice for retailers