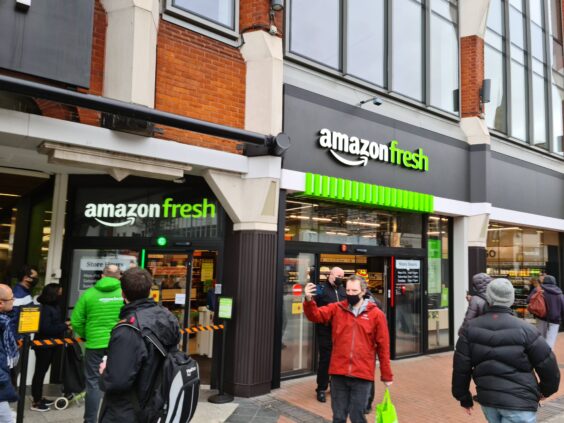 Amazon's first convenience store in the UK is 4.5% cheaper than Booker's recommended retail prices (RRPs) across a basket of 150 items, betterRetailing analysis has found.
The 2,500sq ft Fresh store opened last week in Ealing, west London. It is the company's first convenience store outside the US and uses 'just walk out' technology. To enter, customers scan their Amazon account with linked payment details through a smartphone app.
Sensors in the store track items customers take. The store has no tills, and customers can exit when they complete their basket.
The transaction is processed through the app, with shop assistants available for support.
First Amazon Go convenience store in UK set to open
The technology was unveiled at Amazon's Go store in Seattle in 2018. The Go brand has expanded to 25 shops throughout the US. In the UK, Amazon is targeting central locations for its Fresh expansion.
The store also marked the debut of the 'By Amazon' fresh and chilled own label, alongside its existing Happy Belly brand. In total, the site had more than 400 Amazon own-label lines.
Own-label ambient products from Morrisons and Booths, which have existing supply deals with the company, were also ranged. Alongside traditional convenience own-label and household brands, the store sold newspapers and magazines, food to go and electronic devices.
betterRetailing compared the RRP on 150 household and Amazon ownlabel brands in the Fresh store against Booker. This included products across soft drinks, alcohol, chilled, confectionery, snacks and toiletries.
Where a line was not directly comparable, price-per-100g was analysed. Overall, Amazon was £21.41 cheaper. Sixty-two per cent (94) of lines were cheaper than Booker, while only six products had the same price.
Amazon and Deliveroo deny CMA claim
Retail analyst Bryan Roberts told betterRetailing the store was a "huge improvement" on Go. "Amazon Go was hit and miss in terms of the breadth and depth of ranging. It felt like a tech expert's vision of Amazon's first c-store in UK is strong on price, range and service New credit squeeze harms availability and shelf life convenience.
"The fact Fresh was created with advice from those with major supermarket backgrounds showed. It might not work outside major cities, but the private label looked good and it would be successful even without the 'just walk out' technology."
Convenience expert Graham Soult said: "The investment in own label shows Amazon is in it for the long run, but I wouldn't say Fresh is a threat to independent convenience – Amazon can't provide that personal level of service."
Amazon Fresh first look
Own label
The 'By Amazon' range is the internet giant's first attempt at a grocery own label. It is exclusive to the store and accompanies other own-label ranges from Morrisons and premium supermarket chain Booths, who both have existing supply agreements with the firm. 'By Amazon' is only available in the fresh and chilled categories, and the company has no plans to expand it.
News and mags
The shop is based near busy London transport links on a high street in west London.
To cater to the returning transient footfall of office workers, students and tourists as lockdown eases, the store has placed impulse categories such as news and mags near the entrance.
The section is situated next to a self-serve coffee area to encourage larger basket spends.
'Just Walk Out Shopping'
Customers can only enter once they scan a QR code from the Amazon app on their phone. Amazon calls the idea 'Just Walk Out Shopping' and hidden sensors around the store recognise when a customer takes an item. They can leave the store without going to a checkout and their basket will be billed through their Amazon account.
Technology
As well as selling traditional convenience items, Amazon is showing its technological roots by offering more expensive gadgets such as tablets and smart speakers, as well as an Amazon Hub for parcel collection and returns.
With some items costing £69.99, the area targets a more affluent customer base found more frequently in this part of London.
Beers, wines and spirits
Standalone alcohol sections – or 'Beer Caves' – are concepts which are growing in popularity in convenience. Amazon Fresh has made its own attempt at the trend. With beers at the £4 price point and whisky costing £40, Amazon Fresh is catering to an upmarket demographic. The area is manned by an assistant to ID customers who pick up items from the section.
Local suppliers
Amazon has recognised the high demand for locally-sourced products and has placed several displays around the store notifying customers where certain items are sourced from.
Some products such as hot food to go are produced on site each day, while others such as pastries are sourced from suppliers based in London.
Click here to read an exclusive interview with Ilann Hepworth, managing director of Jisp, the company bringing 'Just Walk Out' technology to independent shops