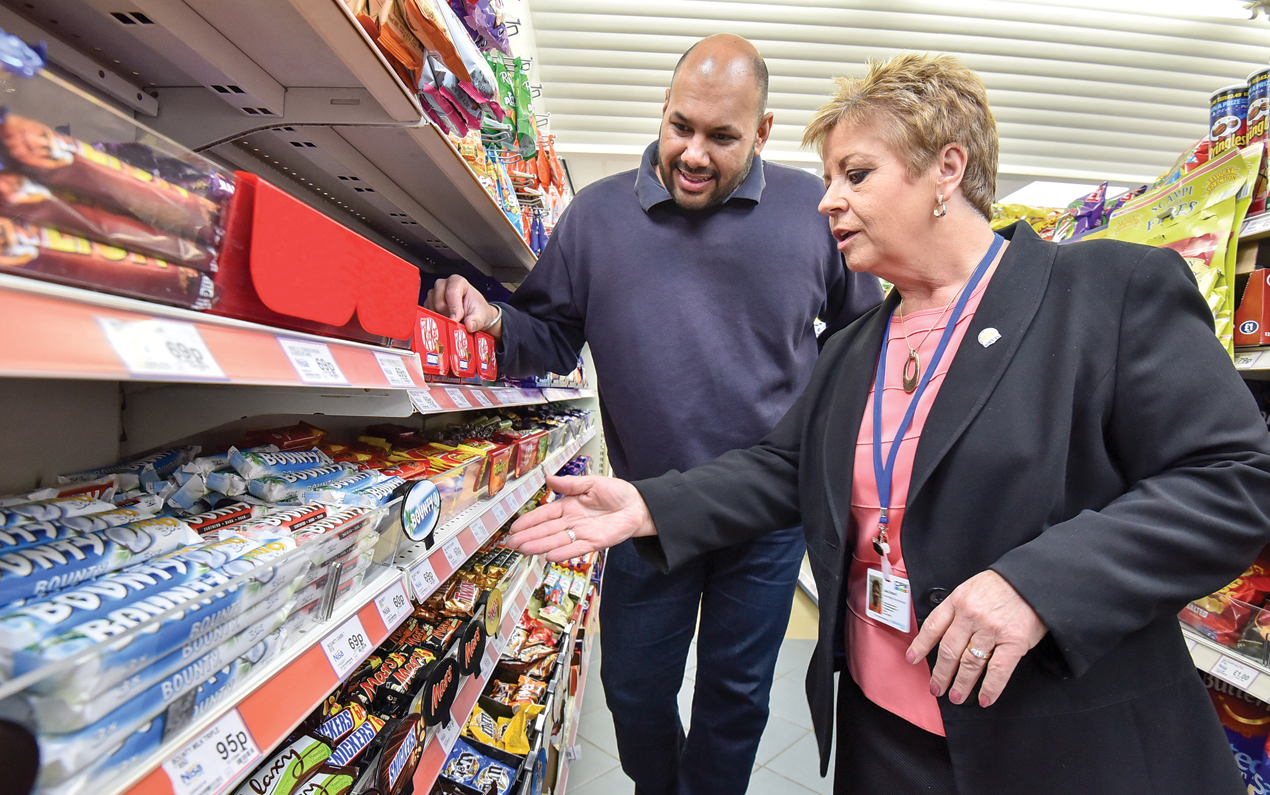 Retailers who merchandise well make their displays easy for customers to shop by promoting and pricing products consistently. By placing high-margin items at eye level, shoppers can locate items quickly that could lead to a higher basket spend.
Before benchmarking, find out how Julie Driscoll, on behalf of Mars Wrigley Confectionery, helped Marty Uppal create an action plan to enhance his merchandising.
Marty's store has been in the family for more than 30 years, and is jointly managed with his brother. Marty decided to leave his symbol group at the beginning of the year, and is now unaffiliated. His nearest competitor is Asda, which is a mile away, and his most popular – and largest – category is alcohol, particularly beer and wine.
How can the IAA help Marty boost sales by getting better at merchandising?
---
Name Marty Uppal
Location Fixby, Huddersfield
Shop Fixby Stores
Size 1,800sq ft
Staff Two full-time, five part-time
---
Why I take part
"Since becoming an independent retailer, we have made a lot of changes and have big plans for the store, but I knew I needed help to improve other practices in my store before this could happen. I'm hoping the IAA and the visit from Mars Wrigley Confectionery will provide me with simple opportunities to improve my merchandising to increase sales and make it easier for my customers to get the products they need."
IAA advice
Marty's challenge: Having appropriate checks in place to ensure excellence
Marty has a good relationship with his staff and is training them about stock rotation and waste, but what can he do to ensure each staff member knows about these guidelines?
Julie says: "Training staff about stock rotation and date-checking is vital to ensure retailers don't lose profits. Having written guidelines for your store and ensuring everyone follows them can help reduce these losses, which will help with overall profits. Without these guidelines, products that should be sold first may be pushed further back and may easily be missed."
Action: Use merchandising guidelines for staff to follow to reduce waste and ensure consistency.
Marty's challenge: Promotions to encourage additional purchases
Marty has a good range of merchandise in his store. However, products often bought together aren't stocked in the same place, making it harder for shoppers. What can Marty do to improve the shopper experience?
Julie says: "It's important to drive additional purchases wherever possible and cross-merchandising is a key opportunity to increase spend. Making a customer's journey easier by linking products can have a positive effect and increase sales. Retailers should consider where there is opportunity to relocate products, like having chocolate in the chiller and stocking crisps near the alcohol."
Action: Optimise space by cross-merchandising with items that are commonly bought together to increase sales.
Marty's challenge: Ensuring everything is priced in a consistent way
Marty recently left his symbol group and is now independent, but his shelf labels still have his old symbol's brand on them. What can he do to ensure he's presenting his stock in the right way?
Julie says: "Making sure each shelf label is correct sounds time-consuming, but it alerts shoppers to key information. Retailers should ensure their labels are easy to read for customers and help staff know where products are stocked. Having out-of-stock labels is a great, simple way of showing when retailers need to order products."
Action: Change all product shelf-edge labels to reflect your store's brand and ensure it is consistently promoted.
To see how the retailer that took part in Academy in Action last year benefitted from their visit, click here