A day to celebrate
This spring offers retailers and customers the chance to celebrate events that in recent years might have been held in isolation or on a smaller scale.
With restrictions loosening by the second and perhaps unlikely to return in a meaningful way in England, and possibly Scotland, Wales and Northern Ireland as well, there could very well be an upsurge in the scale of certain celebrations.
"We'll be getting some things in," says Dilmeet Singh, from Londis Gerrards Cross in London. "Londis will help us out and send us some promotional material and PoS, and we can then utilise that in store. We tend to have a lot of customers celebrating St Patrick's Day in our area, so we do quite well on those days.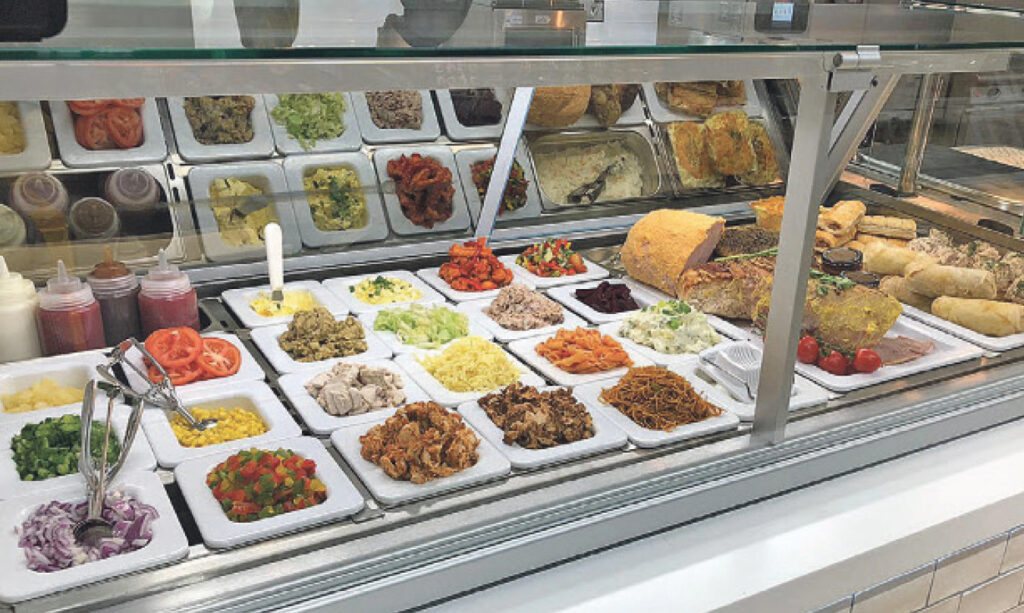 As people are looking to get back to normal and there are more people shopping in convenience stores again, I'm looking forward to it." The key category within St Patrick's Day is alcohol, specifically Irish beers and spirits, so retailers should make sure they are well stocked with these products ahead of 17 March.
"It is worthwhile for retailers to reconsider which alcohol brands to stock to drive sales and inspire customers to celebrate at home," says Lauren Priestley, head of category development, off-trade at Diageo. "Beer is key during this time. In fact, the category increased by 15.3% in value in the month running up to St Patrick's Day in 2021. Guinness is a high-quality and trusted beer choice, accounting for 92% of total off-trade stout brand sales, making it a must-stock. Guinness is often considered synonymous with St Patrick's Day due to the Irish heritage and many customers may be looking to enjoy the 'black stuff' during this time."
Diageo to launch alcohol-free Guinness 0.0 across convenience and wholesale
And while Valentine's Day and Mother's Day are personal, smaller-scale events, St Patrick's Day offers the opportunity for something much larger and retailers should make sure their stores are well stocked with multipacks as people will be looking to buy in bulk in preparation for parties.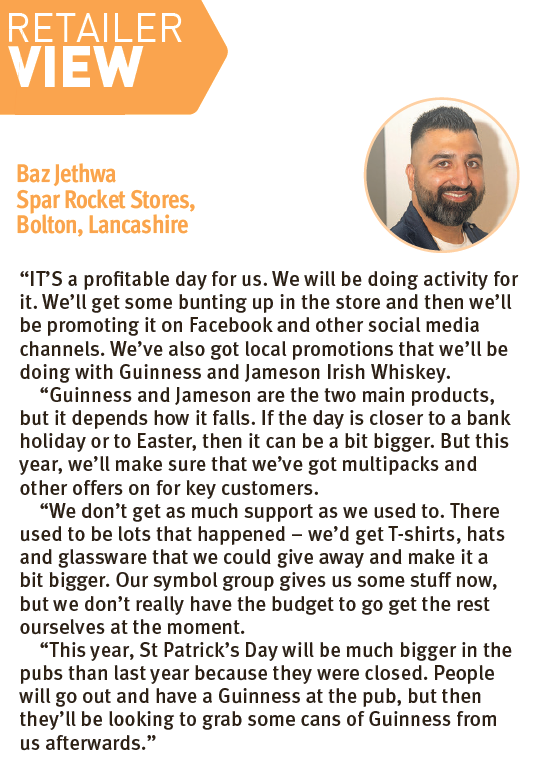 "Retailers can take advantage of various multipack sizes for calendar moments like St Patrick's Day," adds Priestley. "For example, Guinness Draught in Can is available in four-pack, 10-pack and 15- pack formats, meaning that with space permitting, retailers can offer customers a large choice. Maintaining a selection of multipacks also increases customer basket spend and research has shown that listing a 10-pack with a four-pack drives 30% of incremental sales." Consider creating in-store theatre by decorating any beer displays to capture attention.
Get the word out there
St.Patrick's Day isn't built around a specific weekend, nor is it a bank holiday in the UK, so retailers should approach it like they do Valentine's Day rather than Easter. People will need reminding, and it is likely that most purchases made will be on the day or very close to the day.
"We'll put banners up so people know about it," says Imran Nasim, from Symington Stores in Kilmarnock. "But you've also got to be careful you don't promote it too much at the moment" he says. "There's a greater chance your older customers won't come in if you've done too much with your store and they worry too many people will be in there at one time. That's the feedback we've had from our customers."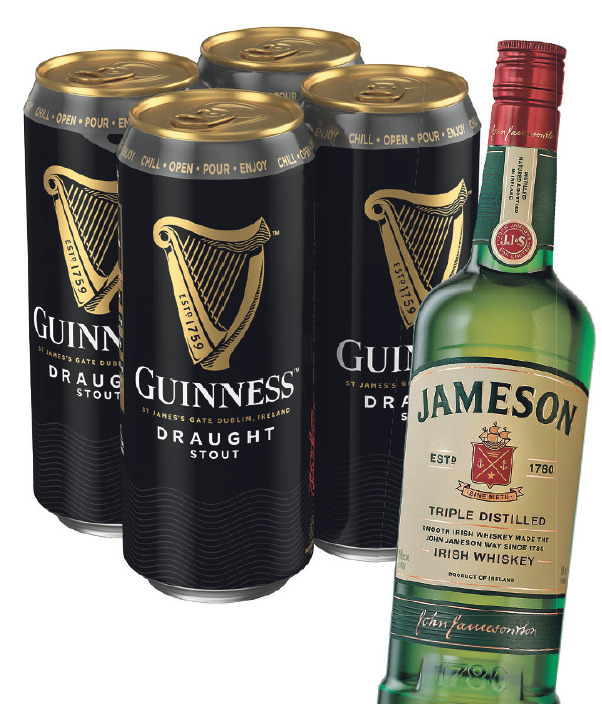 Nasim intends to keep an eye on what the Scottish government does regarding restrictions – they recently lifted restrictions on Scottish football, for example – to try to predict how big St Patrick's Day celebrations will be this year, and remains cautious about banking on society opening up completely by St Patrick's Day. Dilmeet Singh sees most of his St Patrick's Day purchases made on the day itself or the day before as people stock up close to the time, but he starts promotions for the day about a month prior. "Alcohol is the main seller," he says. "It's basically Guinness and other Irish alcohols like whiskey."
Link it to other events
St.Patrick's Day falls on a Thursday this year, meaning that the day itself could easily extend into a long weekend. For retailers, this represents an offer to keep sales booming, particularly if they can link it to other offers and events. One good example is the Six Nations, which has its fi nal 'Super Saturday' round on 19 March. Given the tournament is sponsored by Guinness, this is an opportunity to combine two big complementary events to broaden the scope of both across several days.
Jameson launches St Patrick's Day campaign
"A beer that is associated with Six Nations, retailers that provide a variety of formats and products within the Guinness range will reap the benefi ts," says Diageo's Lauren Priestley. "By leveraging Guinness' brand recognition, retailers can encourage customers to explore a drinks range by stocking Guinness drinks within the wider range."
Beyond alcohol
While alcohol is known as the principal purchase when it comes to St Patrick's Day, it is also worth considering the growing number of people who are looking to reduce their alcohol intake.
Given that it is likely that people will be gathering – and hosts will be stocking up for their guests – it is worthwhile including some non-alcoholic options as part of your offer. "Inclusivity within a drinks range is also an important consideration, and we know that no- and lower-alcohol options have been growing for a number of years," says Priestley.
"Guinness 0.0 taps into the increasing demand for high-quality and great-tasting no- and low-alcohol options. With evolving expectations and consumers looking for more choice, it is vital to incorporate no- and lower-alcohol options that deliver taste and quality assurances."

Additionally, for those retailers who don't have an alcohol licence, it can be tempting to sit out St Patrick's Day, but if your customer demographic is likely to be celebrating the event in any way, there are things you can do to bring in trade. Mulkerns Spar in Jonesborough, County Armagh, has no alcohol licence, but Enya McAteer makes sure there's stuff on offer for the day. "People come to us to get things before they watch the parade. We spray things green. We have an ice-cream machine and we dye the ice cream green. We also sell shamrocks, which the older generation often pin to their clothing. We sell headbands with leprechauns on them and things for children. We don't sell alcohol, but we'd put that on sale if we did," she says.
"Most people go into town for the day and then come back to continue celebrating. Sometimes they have a party at home, so they'll buy sweets, crisps and pizzas from us to plan for that, along with mixers and ice. It's such a popular event that people will really stock up for it." Even without an alcohol license, you can drive excitement online, or run a colouring competition for youngsters and post the winnings entries online.
Read more about seasonal trends in retail