What's trending in spring confectionery?
"Spring is an important time of year for independent retailers, with various opportunities to showcase merchandising ideas and drive in-store sales, from the smaller occasions such as Valentine's Day and Mother's Day to the more significant events such as Easter," says Levi Boorer, customer development director at Ferrero UK.
For the past two years, spring celebrations have been limited due to lockdowns or restrictions. However, it's predicted there will be fewer restrictions this spring, meaning shoppers can be with their loved ones for the three key seasonal events in the next three months: Valentine's Day, Mother's Day and Easter.
Shopping locally is expected to thrive in all spring confectionery missions, according to Russell Tanner, marketing and category management director at Valeo Snackfoods, and it is a way for independents to stand out against multiples. But he recommends retailers order early to factor in any availability issues.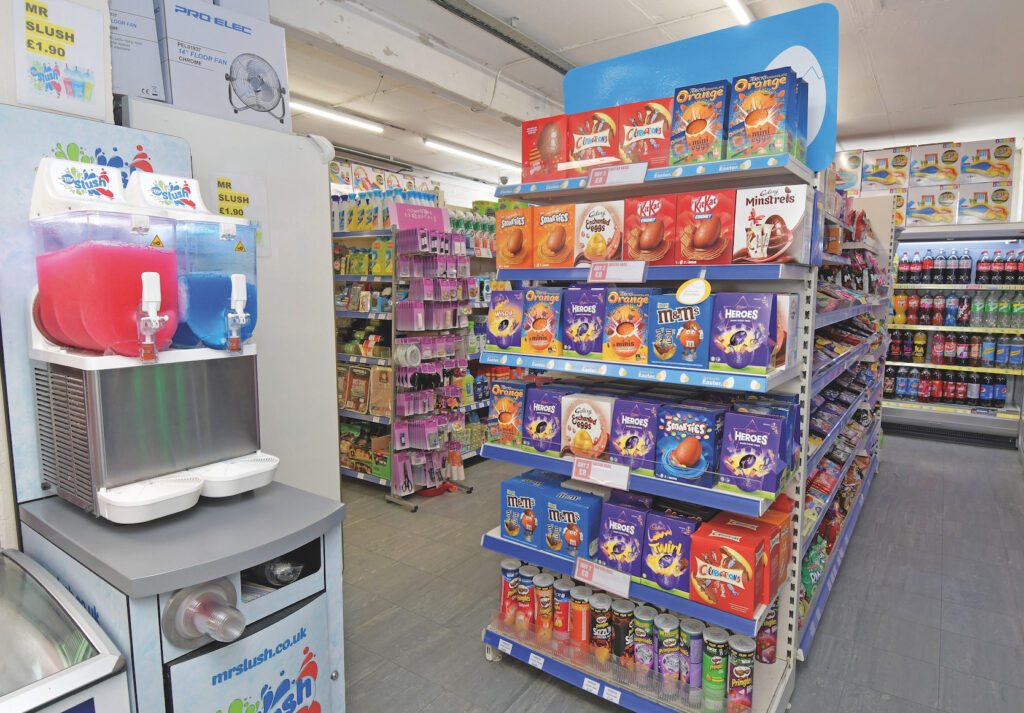 Tanner says: "While independents have weathered the storm somewhat better than larger retailers, given their position within communities, a mix of supplychain problems, heightened health consciousness and the increase of online shopping has provided uncertainty that requires fast action to navigate."
But what's trending? Spending time with loved ones will be priority number one for a lot of customers. This means that while healthy eating may not be a major factor for chocolate-focused events, such as Easter, catering for family members' dietary requirements will be. Vegan, vegetarian and freefrom products are valuable for higher sales, especially as the UK vegan market is expected to soar to 1.1bn by 2023.
Jas Ghag, trade marketing executive at Perfetti Van Melle (PVM), says: "Consumers with specific dietary requirements often seek familiar treats and are delighted to fi nd trusted brands such as Fruittella playing in the vegan space with its popular gelatine- free range, now worth 1.52m.
Read more: Confectionery sharing bags price comparison – Pricewatch
Mother's day
Mother's Day is happening on Sunday 17 March and is a time for shoppers to buy gifts for their mothers and thank them for all they do. In addition to confectionery, shoppers will wan to purchase flowers and cards.
This is likely to help create a display following Valentine's Day as the products purchased are similar. Independent retailers should look to stock boxed chocolate and other gift products. Boorer recommends these products are on display three-to-four weeks before the event takes place.
"We suggest independent retailers use in-store PoS displays that showcase the specifi c date of Mother's Day, as this is a great way to remind people of the big day, as people don't often recall the date," he says.
It's also worth scheduling several posts on social media to remind people of the date and the products you have available. Go one step further and include your opening hours to ensure you're answering any questions they might have.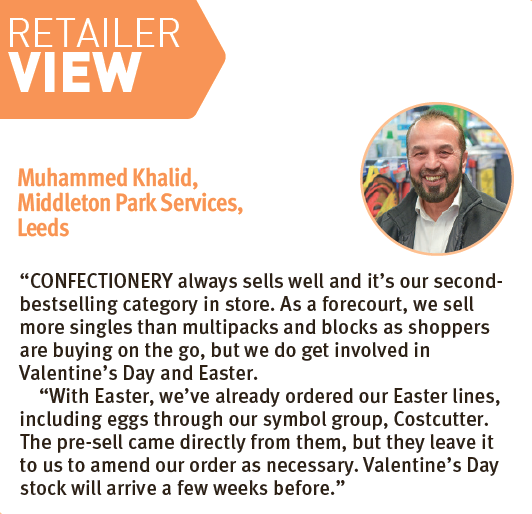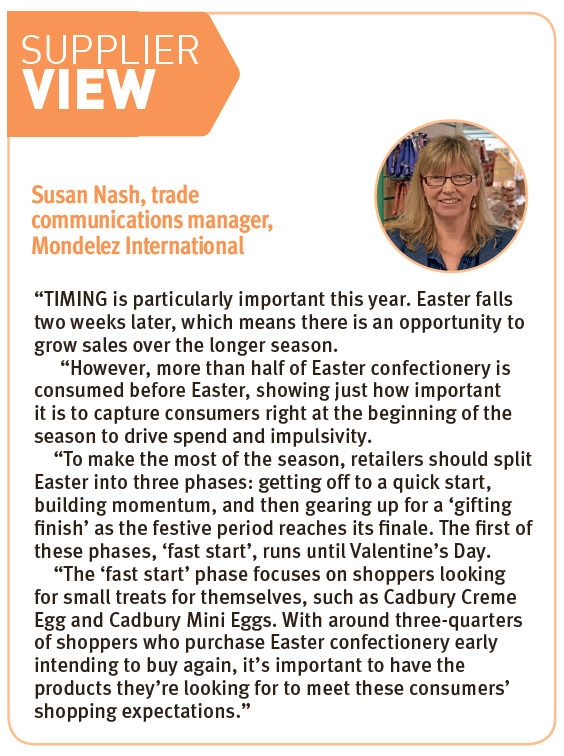 Capitalise on easter
Easter sales grew 11% last year in independent and symbol stores, with more consumers shopping locally, according to Susan Nash, trade communications manager at Mondelez International. Brands are important at Easter and get shoppers excited about the season, long before the event.
"Purchasing a brand they recognise is the most important factor for a shopper at Easter, making Cadbury Creme Egg and Cadbury Mini Eggs a crucial part of a retailer's line-up," says Nash. Timing is everything with Easter, but a large portion of impulse purchases are made months before.
"Two out of three people buy Cadbury Creme Eggs for non-Easterrelated consumption, showing the importance of stocking up on the product early and highlighting its prominence in the range," says Nash.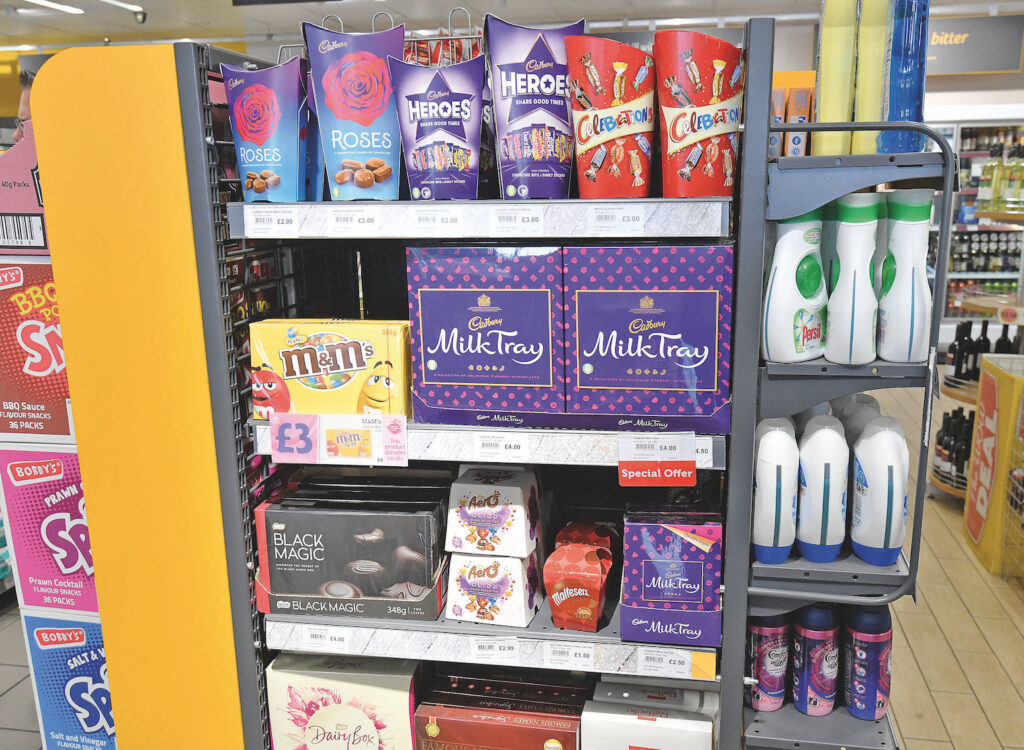 In fact, 50% of shoppers consume small sharing self-treats, regardless of sharing format, says Sophia Padt, senior brand manager for Easter & Halloween at Mars Wrigley. "Seasonal products can encourage permissible and impulse treats, creating an opportunity that retailers won't want to miss," Padt says. "Easter drives 30% of the category's total sales across the season, with small sharing and novelty confectionery making up as much as 40% of early Easter sales."
This year, the supplier is adding to its Galaxy Easter range with the launch of Galaxy Caramel Truffle Mini Eggs. "The eggs are a foil-wrapped indulgent treat, perfect for the egg-hunt ritual," Padt adds.
Meanwhile, Mondelez has relaunched its Cadbury Mini Eggs tablet and a campaign dedicated to Cadbury Creme Egg. Nash says: "The beloved egg will be half covered in white chocolate and the campaign's strapline, 'How do you not eat yours?' will run across PoS in store to highlight the promotion to consumers. "But it doesn't stop there. When a shopper wins, so, too, does the store, with an opportunity to win Amazon vouchers of up to 1,000."
From Nestle Confectionery, its Mini Eggs range has expanded with an After Eight variety. The After Eight fl avour has an RRP of 1 and is a dark chocolate egg fi lled with the brand's minty After Eight centre, offering consumers something totally different to the mini eggs market. The supplier has also brought its Smarties Bunnies range back. key date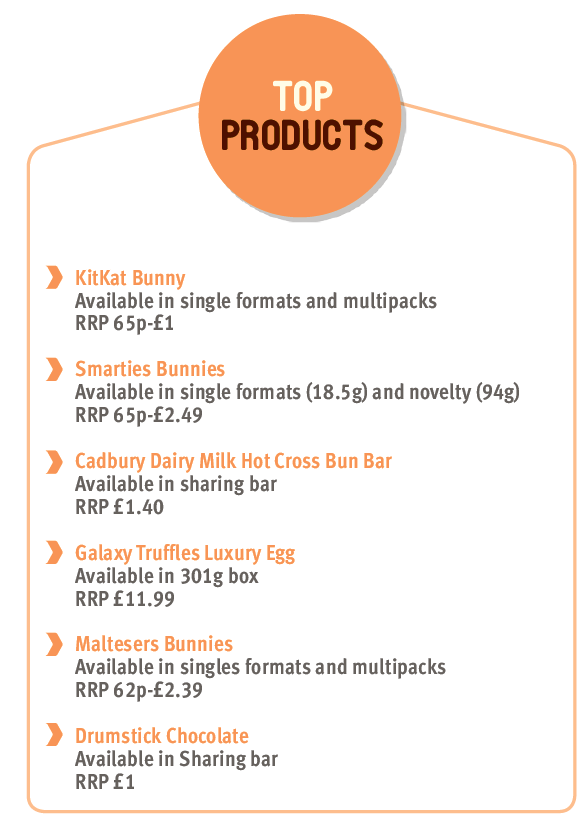 Valentine's day
"Retailers will need to be planning for the springtime confectionery boost as early as January, with shoppers planning for Valentine's Day, Mother's Day and Easter weeks in advance," says Valeo Snackfoods' Tanner. Valentine's Day is a great opportunity for retailers to boost spend, especially with boxed chocolate.
Shoppers will look to treat their loved ones with flowers and chocolate, so ensure they're in prominent locations. If you stock flowers, make sure chocolate and confectionery are easy to find nearby to drive linked purchases. "Each spring event also presents an opportunity to maximise in-store basket spend through cross-category promotions and focal displays, –for example, displaying floral bouquets alongside boxed confectionery," says Ferrero's Boorer.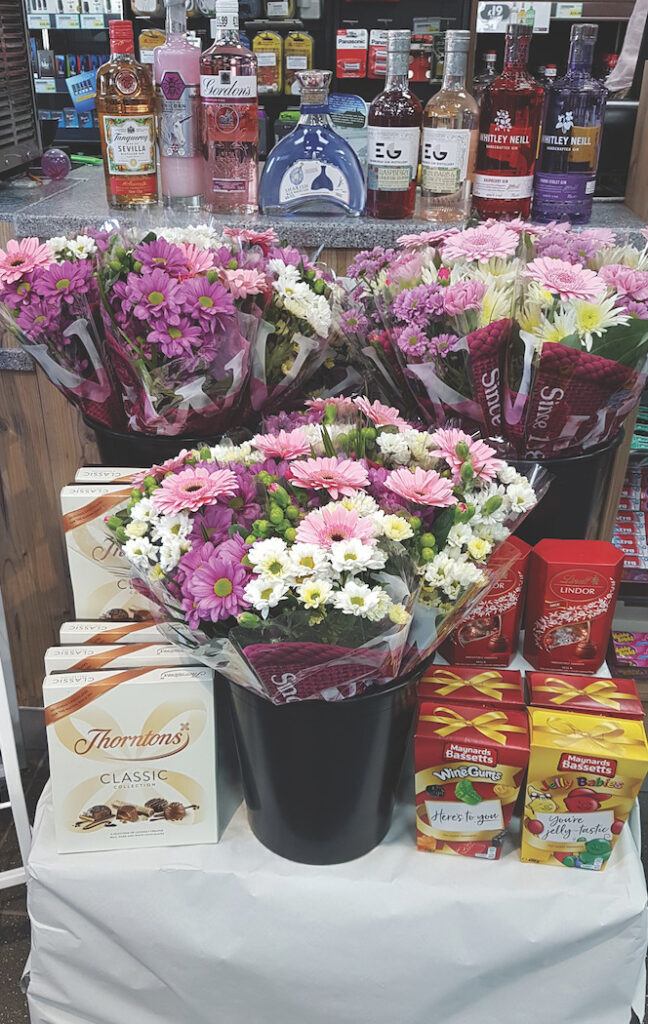 Muhammed Khalid, of Middleton Park Services in Leeds, says making use of aisle and gondola ends helps him highlight each seasonal event, with confectionery taking a lead role. "We use planograms from Costcutter to give us an idea to merchandising Valentine's Day products to ensure customers come to us when they need it – but we can tweak if needed," he says.
"Most of our seasonal stock will be on aisle ends for up to four weeks and we'll ensure our best promotions are highlighted through PoS. We have eight aisle ends in total, and two-to-three of these will be in the best location, so are dedicated to seasonal stock." While Valentine's Day is for couples typically, some children want to buy something for their friends and parents. Lines such as Love Hearts Candy Sticks are likely to be popular in this scenario. Each pack includes a temporary tattoo featuring a positive or 'feel good' message.