Comparing the prices of white wine
Behind the numbers
Wine is worth £1.4bn within convenience stores, with 73% of impulse sales costing between £5 and £8. This week's data shows there are opportunities for retailers to increase profits and review prices across select white wine lines.
Take Echo Falls. Forty per cent of retailers sell it for as much as £7.99, £2 more than the most-common price set by 59%. A similar proportion – 42% – are selling Yellow Tail Chardonnay for as much as £8.99. This compares with 55% selling it for £6.49, the second-largest price difference of the 12 lines examined. Similarly, 45% of retailers charge up to £6.99 on Blossom Hill, with the most-common price of £5.75 charged by 52%.
Conversely, 31% and 27% of retailers are charging below the most-common price on Hardys VR Pinot Grigio and Chardonnay, respectively, possibly using the brand's UK number-one status to drive value sales.
White wine price checker
I HEART PINOT GRIGIO 12% 75CL
Use the price-checker chart to see what the most common prices are for a key line in the category.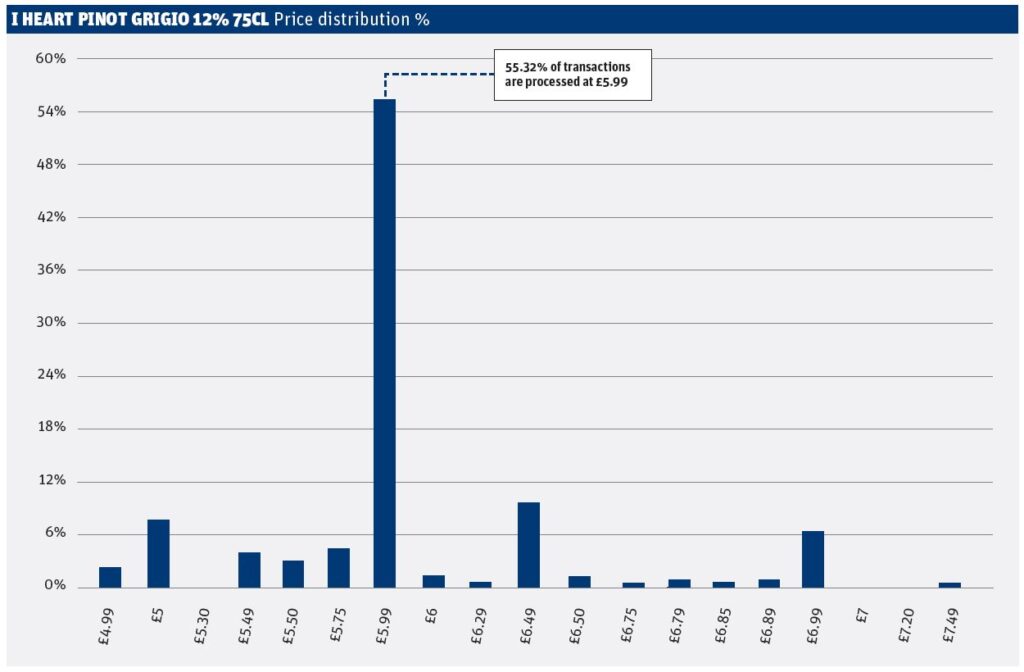 Retailer views on white wine products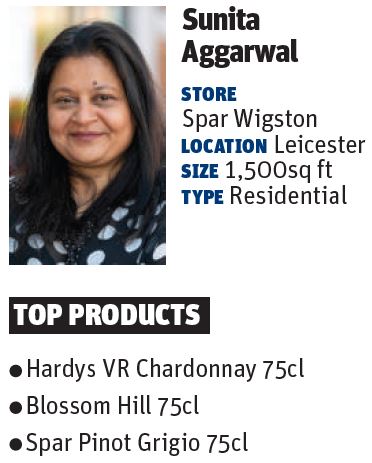 "We have about five shelves of white wine across one metre. It's a good seller all year round, and during the summer we tend to sell a bit more. We get it all through Spar, only visiting cash and carries if we have to. We don't have many price-marked lines, we prefer shelf-edge labels. We haven't worked with local suppliers, I don't think I've got the clientele for them. There's been a big drive with Spar lines, they're vegan and the packaging is quite classy, it's a slightly cheaper range, but the labels have a strong point of sale."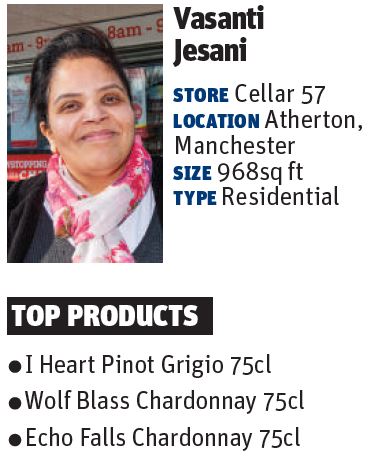 "Our white wine takes up eight shelves across one metre. Sales are on par with red, while rosé is the weakest seller. We get it from Parfetts and Booker, through deliveries as well as visiting the cash and carry. I don't work with local or specialist suppliers, it's a matter of finding the right ones, but I haven't looked into it, either. We have a stable core range and then, depending on what promotions come in, I'll discontinue one or two lines to make space for them. People don't seem to pick up price-marked wine – they care more about tastes and brands."
White wine price distribution
Use the price distribution table to see the range of prices being charged on 12 key lines.
Product name
Lowest
price
Most
common
price
Highest
price
Barefoot Pinot Grigio 12.5% 75cl
£5.99
£6.99
£8.99
The Secretary Bird Sauvignon Blanc 13% 75cl
£5.50
£6.49
£11.99
Mud House Sauvignon Blanc 12.5% 75cl
£7.49
£9.99
£10.99
Echo Falls 11.5% 75cl
£4.49
£5.99
£7.99
Hardys VR Pinot Grigio 12% 75cl
£4.99
£5.49
£7.99
Blossom Hill 12.5% 75cl
£4.75
£5.75
£6.99
I Heart Pinot Grigio 12% 75cl
£4.99
£5.99
£7.49
I Heart Sauvignon Blanc 12% 75cl
£4.99
£5.99
£7.99
Casillero Del Diablo Chardonnay 13.5% 75cl
£5.99
£6.99
£8.99
Casillero Del Diablo Pinot Grigio 12.5% 75cl
£5.99
£6.99
£8.99
Hardys VR Chardonnay 12.5% 75cl
£4.99
£5.49
£7.49
Yellow Tail Chardonnay 13.5% 75cl
£5.79
£6.49
£8.99
Must-stock white wine products
Use the must-stock products chart to see the percentage of retailers charging above, below and at the most-common price.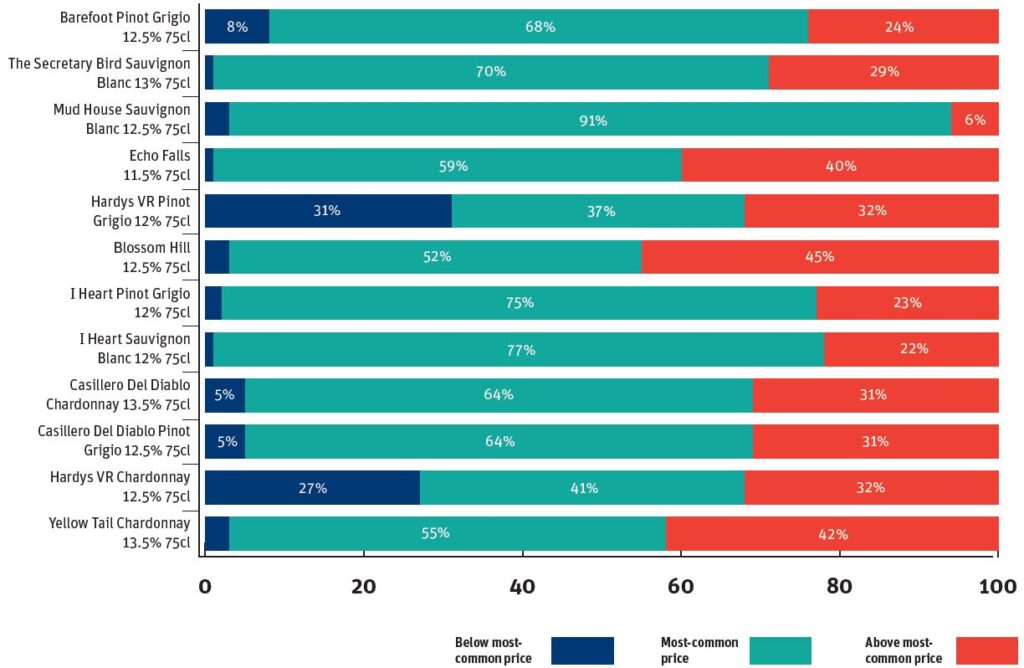 Read more Pricewatch and get expert product price comparison analysis and retailer insight on all the key products in your store.

Data supplied by the Retail Data Partnership, a specialist data and EPoS supplier committed to serving the independent retail sector.