Category overview
Soft drinks added £182m in sales to the convenience channel in 2021, with the category now worth £2.48bn, according to Britvic's latest soft drinks review. Sales are also up 11% on 2021 and up 8% versus 2019 figures. Within this, sparkling soft drinks are worth £737m in convenience, chilled coffee is worth £228m, energy more than £1.4bn and flavoured milk worth £496m, an increase of 26% compared to last year.
This provides a huge opportunity for independents to focus on soft drinks in the next 12 months and drive sales. Amy Burgess, senior trade communications manager at Coca-Cola Europacific (CCEP) recommends independent retailers focus on top-selling brands. "Focus on leading brands such as Coca-Cola, which continues to drive growth in convenience, led by Coca-Cola zero sugar, the fastest- growing cola in retail, Fanta, the number one flavoured carbonates brand in GB, and Schweppes, the number-one mixer brand in convenience," says Burgess. A further opportunity is the multitude of sporting events happening this year, including Women's European Championships and the Commonwealth Games in the summer, as well as the Men's Football World Cup later in the year. 
"Sports drinks as a segment will prove even more popular as we approach the summer months and these sporting occasions and events increase," says Matt Gouldsmith, channel director, wholesale at Suntory Beverage & Food GB&I (SBF GB&I). The 'shop local' habit will continue, as shoppers adopt a hybrid working approach. They're buying for instant consumption more, as well as having more dwell time. It is, therefore, important to have a wider variety of on-the-go options and larger formats to cater for these missions. Juice, cordials and water are also ideal for the breakfast mission.
Value or premium
Personal finances will have a major impact on buying habits of shoppers in 2022, a Britvic report has found, with consumers on average £1,200 worse off this year compared to 2021. Also, one in five are financially squeezed, although the same number of consumers claim they are now better off financially following the pandemic. Independent retailers will need to react accordingly.
Larger formats can play a key role for shoppers who are on a budget. Chris Newman, head of category management for convenience and impulse at Britvic, says: "Convenience retailers must be alert to the budget pressures of these customers and adapt their soft drinks ranges accordingly to offer more value-friendly options. "Retailers can meet these shopper needs by stocking market leading brands in added- value pack formats. Pepsi Max six-pack price-marked pack (PMP), for example, will help give these shoppers an easier way to buy into the soft drinks category." 
Despite the growth of drinklater formats as reported by several suppliers, SBF GB&I's Matt Gouldsmith says drinknow formats are seeing high year-on-year growth at 26% and are something retailers should focus on. "Shoppers have sought more hydration while out and about following the end of Covid-19 restrictions," Gouldsmith says. "To capitalise on this trend, retailers should stock up on on-the-go formats of energy and sports drinks like Lucozade Energy and Lucozade Sport to meet shopper needs, particularly as the weather gets warmer and shoppers spend more time outside." Although there's been a clear shift to value, Andy Lewis, marketing controller at Sunmagic Juices, says there's an opportunity to focus on premiumisation and encourage trade up, especially within mixers.
"The premiumisation trend is continuing in adult soft drinks," he says. "Taste appeal is the number one purchase driver in premium soft drinks and Daymer Bay understand this, ensuring their juices and still lemonades offer a consumer preferred flavour. "The value of premium mixer sales rocketed by 81.3% in 2019 to £323.1m. It's a trend that was apparent before the pandemic, and it's picking up again as normal life returns."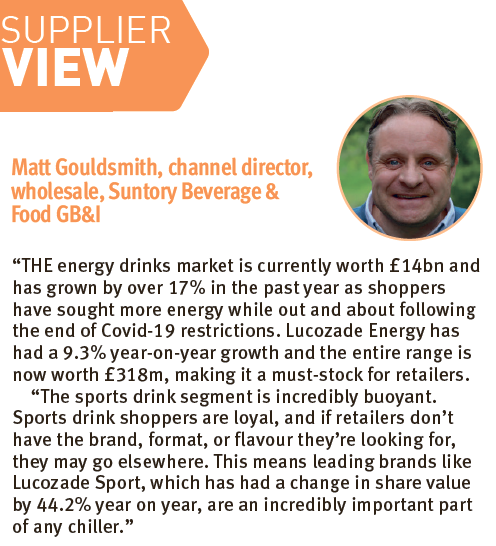 Health trends
"Sixty-eight per cent of people are concerned about the sugar content of soft drinks," says Michael Ratheram, customer engagement manager at Epicurium. "Evolving lifestyles, cultural changes and increasing consumer sophistication have changed the way we look at soft drinks. Retailers can capitalise on this urge to reduce sugar and calories." Suppliers have long been responding to health trends within soft drinks by launching low-sugar varieties of popular brands.
Read more: How to grow your soft drinks sales post-pandemic
And according to Clare Denham, customer category director at Danone UK & Ireland, low-sugar options continue to grow ahead of full-sugar varieties, which has been driven by health interests. As a result, Denham recommends offering a strong water range, especially as the weather continues to improve. "From studies we know that drinking more water is the number one way shoppers want to support their health, with 44% of people saying they are aiming to drink more water," says Denham. "People are consuming more water than ever before, with 17% occasions year on year," says Denham. "Bottled water has recovered since the pandemic and is now the fastest-growing soft drinks segment. Volvic and Evian are the must-stock brands, leading growth in the category."
As availability issues continue, Denham recommends planning early to ensure stock levels remain high, especially during the summer. Juice also meets the health mission and makes up 7.3% of the soft drinks category and the segment is currently experiencing 11.3% growth. "There was also a 43.5% decrease in the amount of sugar in takehome soft drinks between March 2014 and March 2020," says Gouldsmith.
"Low- or no calorie also continues to outperform regular soft drinks, with a 68.6% share of total soft drinks." However, Ratheram says premium drinks can help boost spend and meet the health mission, too. "Premium drinks, especially those with healthy credentials, are experiencing strong growth and increasing share," Ratheram says. "Sports and energy, still and water and flavoured non-carbs have accelerated their growth in the soft drinks category as demand increases and single-serve consumption returns."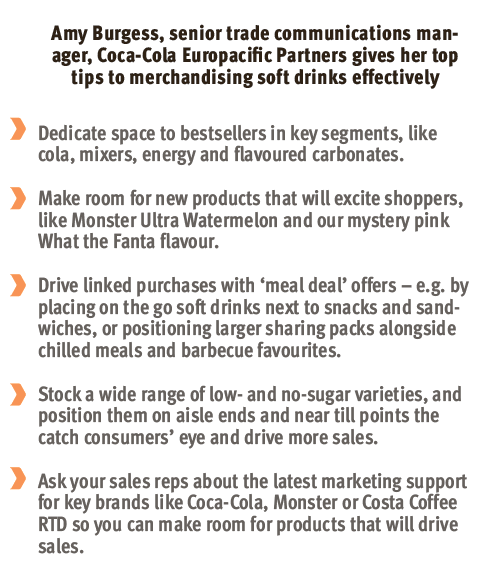 Health will become more important as the upcoming HFSS legislation is implemented. "While we know the regulations require a lot of changes for impacted retailers, there can be opportunities too," says CCEP's Amy Burgess. "Seventy-three per cent of soft drinks value sales already come from HFSS-compliant products, significantly more than other HFSS categories "Two thirds of our volume sales (67%) now come from low- and no-sugar varieties, 40% more than 10 years ago. This means 86% of all our soft drink brand ranges will be non-HFSS come October." It's important, however, not to overhaul your entire soft drinks range to include low and no-calorie options as this can impact zero sugar. Instead, strike a balance and have a zero-sugar option for every full-sugar variety.
The ready to drink coffee and dairy opportunity
Chilled coffee is now worth £228m, a growth of more than 38%. Part of this popularity can be attributed to the fact it meets one more consumer need: taste, hydration, an energy boost and satiety, according to Adam Hacking, head of beverages at Arla Foods. "The RTD coffee category has continued to see consumption and household penetration growth throughout the past year," says Hacking. "More people are buying in to the category, to a greater extent, and on a more frequent basis than ever before, making it a key shopper trend. This is why Starbucks developed multiserve – enabling consumers to enjoy chilled coffee at home." The demand for multipacks and multi-serve offerings is expected to grow in the next 12 months, offering scope for suppliers to launch new lines and flavours to help retailers drive sales. "We also anticipate 2022 will be the most notable for the sheer level of change with the category required to readily adapt to inflationary pressures, reductions in disposable income, HFSS legislation and any future lockdown implementation and easy," says Hacking.
However, Hacking says despite these challenges, the RTD category meets a wide range of consumer needs, which will allow "robust performance to remain in the fact of any potential uncertainties". Friesland Campina's business unit controller for grocery, Dan Chesbrough says sales of the category reached £191m in the UK in 2021. "Consumers are now much more aware of cold coffee and stocking a variety of RTD coffees is a must for convenience stores, especially those near transport hubs. "Our entrant into this category was our Barista Coffee Co can, in Caffè Latte, Caramel Latte and Double Shot Espresso varieties," says Chesbrough. "This was created with the convenience and on-the-go channel in mind, serving as an entry level RTD coffee that could bring shoppers into the category." Dairy drinks and flavoured milk is also an opportunity for independent retailers to boost sales.
Across the UK, chocolate flavoured milk is the second largest subcategory worth £114m, an increase of 14.4% over the past year. Smaller formats are expected to grow within the subcategory, so Michelle Frost, general manager at Mars Chocolate Drinks & Treats (MCD&T) recommends stocking with category champions, like Mars Milk and Galaxy Milk to meet demand. "The familiarity represented by these staple brands means they should be displayed prominently to entice shoppers and drive on-the-go sales," says Frost. "While MCD&T's range of milk drinks are suitable for ambient storage, they are best presented to consumers in chillers and served chilled."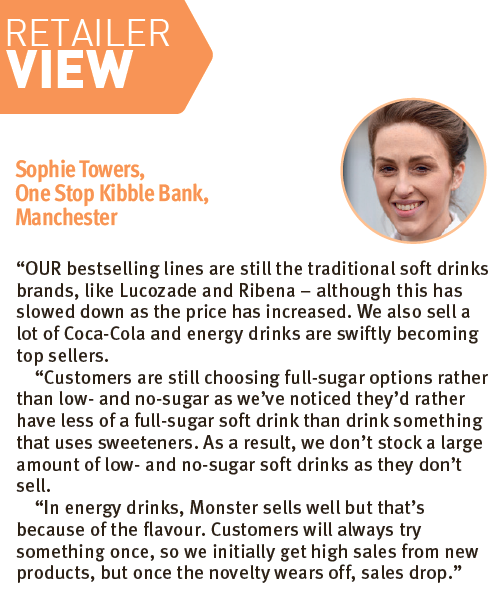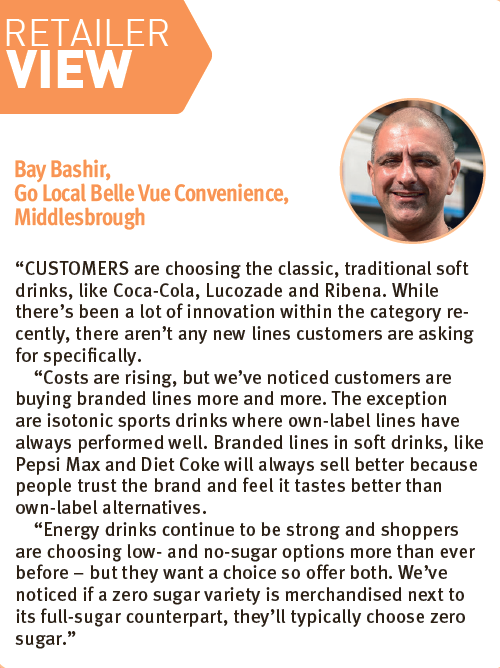 Cola & carbonates are a must stock
Cola & carbonates should be a key focus throughout the summer, as they traditionally overtrade during this time, as reported by Angela Reay, brand and innovation controller at Nichols PLC. Raey says: "More than half of all category sales take place between April to September, and soft sales increase by over 10% from quarter one to quarter two.
"This is due to consumers seeking out those products that are refreshing, as well as flavours to capture the mood of the warmer weather and longer days." The big night in occasion is a key sales driver for independents, as is the festival season, which has made a comeback this year following the full easing of restrictions. "We expect the big night in will remain a part of consumers' lives," says CCEP's Amy Burgess.
"With many consumers also conscious of their spending right now, nights at home provide an opportunity to meet with friends and family – whether that's for a relaxed movie night or a more sophisticated evening meal – without the expense of going out." Consider running a nights in offer or a festival-specific promotion to help showcase value, boost sales and drive repeat custom. Make sure you're able to maintain availability throughout any promotional cycles by planning ahead.
What's new in sports & energy
"Energy is the largest soft drink category in the independent channel and with £1 in every £3 spent on soft drinks being spent on an energy drink," says Boost Drinks' Adrian Hipkiss. The energy drinks segment has become very diverse in the past few years, with the likes of functional and stimulation lines entering the market for shoppers looking for more than a caffeine boost, instead looking for additional vitamins, minerals and protein.
CCEP's Amy Burgess says: "Fitness and healthier lifestyles remain a priority for consumers and shoppers are increasingly looking for food and drink with functional qualities that can help them achieve maximum results during sports or workouts. This has given rise to the performance energy drinks segment."
Dan Broughton, general manager (drinks) at Grenade echoes this and adds: "Functional energy drinks present a golden opportunity for retailers, offering an array of ingredients that are attractive to health-conscious consumers, including natural caffeine for an energy boost, BCAAs studied for their role in muscle recovery, and vitamins to support overall health." SBF GB&I's Matt Gouldsmith says low-price stimulation drinks are a big seller and recommends merchandising these near higher-priced stimulation drinks to give the whole range more importance.
"The stimulation category is growing by 22%, so make sure to stock up on drinks such as Lucozade Alert to take advantage of this trend," he says. Merchandising effectively is vital to ensuring customers can shop the category with ease. Broughton advises: "To maximise sales, retailers should place healthier alternatives in prominent store locations, with impactful PoS such as shelf toppers and barkers to grab customers' attention. "If space is limited retailers should make the most of their chillers, situated near the counter to turn waiting time into buying time – especially as shoppers are more likely to buy drinks for immediate consumption if chilled."