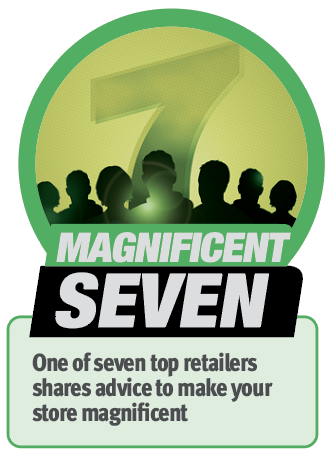 This year, we are going to face a lot of challenges, particularly financial. There are rising costs wherever you turn.
Electricity and gas prices look set to continue to rise as the crisis deepens. The minimum wage will rise in April as well as employer contributions, which will force retailers to consider their staffing hours.
I'm also concerned about price inflation and things becoming too expensive as retailers try to compete with supermarkets that are already engaged in price wars with each other – like Tesco and Aldi's price war of last year. For independent retailers, we have to play to our strengths – convenience is the key thing.
We need to work out how to reduce our man-hours, increase profitability and become more efficient. For retailers to succeed this year, they need to find ways to bring in business in a cost-effective way, and I believe that technology is the way forward. We're investing in technology at my store, with headsets and electronic shelf-edge labels, which will save a fair bit of time.
Soaring energy costs will force retailers to close stores
But the biggest opportunity in our sector is fast delivery. We currently offer a home delivery service, but it isn't where I want it to be at the moment. We're waiting for new tech to come through and we're trialling things to reduce our labour costs and become more technology-orientated. I don't think any of the tech is quite there yet, but we are looking for tech-led solutions all the time. At the moment, it's very much a case of what you spend is what you get.
We're also trying to streamline our systems into one back office. At the moment, we have two – one in each store – but if we can control everything through one single office, that will increase efficiency and save us money.
This year, we'll be running fewer promotions in a bid to claw back some gains in margins. That will potentially reduce sales, but what I'm more interested in is ensuring that our store is always convenient for customers. That means there are no gaps on the shelves and no out-of-stock items. That's done largely by getting the right suppliers. But my advice to retailers for 2022 is to invest in technology as much as possible. It will make your life easier.
Read more of our expert opinion on the independent retail sector