Why get into grocery home delivery
If you're a retailer and you're not currently offering grocery home delivery to your customers, then you are potentially missing out on a huge number of sales.
Depending on your store's location and demographic, there is scope to widen your customer base to people who might not have been willing or able to travel to you themselves, or you could be encouraging more frequent purchases and engagement from existing customers.
It is tempting to see home delivery as a burden on you and your team, requiring more man-hours to accept, organise and deliver orders in good time. The potential benefits are considerable, however, and with shopping habits increasingly turning to online, particularly in the wake of the pandemic, retailers risk being left behind if they don't get involved now.
"Deliveries are now about 40% of our overall business now," says AJ Singh, from Premier Morley in Leeds. "Before the pandemic, we were doing about 20-to-30 deliveries a day. During the pandemic, it went up to 150-to-200 a day, and now we're doing around 100 deliveries a day.
"That's bringing in around £12,000-15,000 every week just on deliveries. We've now noticed a switch from in-store sales. We're seeing fewer customers coming in who used to, but they're still spending with us. They're ordering online because it's easier."
Retailer view on home grocery delivery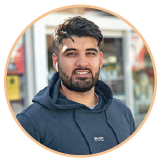 "I'm with Snappy Shopper and it's been a great success. We've got two drivers working full-time and our staff manage orders and things like that. I'd definitely recommend it.
"We started doing deliveries just from the store, with one of my staff members going out and delivering orders. Then we expanded the area, collecting all the morning orders and then giving them to a driver when they arrived. It naturally grew, so we got two drivers and started doing morning and evening deliveries.
"I would definitely recommend going with an app. They simplify the whole processes. If you join with a partner like Snappy Shopper, they will be able to talk you through everything step by step."
Using a home delivery app
For retailers concerned about the extra workload that deliveries will bring, they can always look to delivery apps such as Deliveroo, Jisp, Uber Eats and Snappy Shopper. Each brings its own advantages, whether it's gaining exposure, providing drivers or simplifying processes, and all incur costs for the retailers that use them.
"The brand awareness and TV exposure means that people tend to use Uber Eats and Deliveroo," says Richard Kent, from Evington Village Store in Leicestershire. He currently uses Deliveroo, which provides him with drivers and ensures that regardless of any concerns at the other end, his store still gets paid.
"You get paid regardless, which gives you that security and peace of mind," he says. "Having your own app could be the way forward, but you've got to be prepared to invest a lot of time and money."
AJ Singh is with Just Eat, ZeusLabs and Uber Eats, and feels that the more apps your store works with, the more money and customers you can bring in. It more than makes up for the cost of the commission, which can be around 25%.
"People are afraid to pay the commission fee, but it's allowing you to gain a massive amount of customers you wouldn't get coming into your store," he says. "It's better to think of it as more of an operational cost that's bringing in a wider range of customers and enlarging your database."
Supplier view on home grocery delivery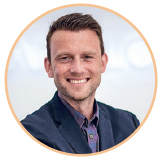 Investment
"Stores need to consider that delivery can be a time-consuming process, with orders throughout the day. Do you have the staffing levels to incrementally offer a delivery service or do you need to increase cost into your business?
"Can you afford to take on staff to ensure the level of service or even take staff away from other tasks in the store? To overcome this, agree a target number of orders and how you would manage this day by day. Starting from one mile from the store should ensure you can responsibly fulfil deliveries in busy periods."
Margin
"Think about your margin, whether it's yourself or through a third-party app. What is the margin mix once you factor operational costs into your business, especially with rising costs of employment and even things such as fuel for your delivery vehicles? Be mindful to look at the small print on contracts to ensure you're not throwing margin away and, therefore, running an incremental offering like delivery with little to no benefit to your store."
Time
"Do you have the time to invest in a new solution for your store? It requires you to market the offering, process it and then service it. To overcome this, suggest someone from your store to be the delivery champion, do the social posting and respond to any customer enquiries socially that may present themselves."
Competition
"How do you stand out from the crowd? What are you offering locally that help differentiate your store? Consider these when choosing right partner or to go alone."
Grocery home delivery step-by-step guide
Pick an offer
Deciding to offer home delivery isn't just a matter of signing up for an app and going from there. Make sure you know what you want to offer, how often and to whom. How many deliveries do you want to make each day?
Pick a home delivery strategy
Make sure you have a strategy to ensure you can provide the service that you want to. Will you and your team do it all, or will you go with a delivery app that will provide drivers?
Pick a team
Do you have the extra staff and the vehicles in place to do this yourself? Make sure you have drivers who you know won't let you down. Otherwise, it's always possible to lean on the services of a delivery app.
Pick an area
Decide on how far afield you are willing to deliver. A wider spread will bring in more customers and more takings, but may also end up stretching your resources too far and could result in late deliveries, which would hurt your brand's reputation.
Customer interaction
It's important to have a staff member who can contact your delivery customers to let them know if things are out of stock and need to be changed or to encourage any potential trade-ups from them.
Pick your pricing
Make sure you stay on top on your pricing and stock levels. If your website says you have a product at a certain price, you don't want to have to call the customer to correct it. Make sure you're always updating your prices and your database.