Attendees
Facewatch
Nick Fisher
Facewatch CEO
Host
Megan Humphrey
Retail Express editor
Retailers
Bay Bashir
Owner of five stores in Middlesbrough
Gareth Lewis
Loss prevention & security services manager at The Southern Co-operative
Hussan Lal
Owner of St Mirren Food Store in Paisley
Mital Morar
Owner of six stores in
Manchester
Steve Bassett
Owner of four Londis stores in Dorset
Vince Malone
Owner of Tenby Stores
in Pembrokeshire
Preventing rather than curing
"Retail theft is a daily challenge for us," says Manchester retailer Mital Morar. "We have CCTV, signage and we train staff to be vigilant. It's very important to let would-be criminals know you're there and watching.
All the current measures we have, though, are reactive to the event when you can't really do a lot about it. We want something that puts us in control."
"We've had to employ someone on the door and that's just not cost-effective," adds Hussan Lal, owner of St Mirren Food Store Limited in Paisley. "But I believe prevention is better than cure."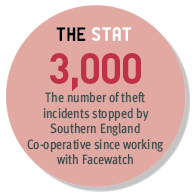 Facewatch CEO Nick Fisher agrees and adds that while retailers should continue reporting crime to the police, they need to take control for themselves.
"All businesses need to adopt some form of self-help," he says. "Building case files takes a lot of time and expense, which is frustrating when you don't get always get sufficient police response." Nick adds that it's far better to use technology to stop the crime happening in the first place.
"We train our staff well and report shop theft to the police, but nothing happens," agrees Go Local retailer Bay Bashir. "I find they don't even come out for it any more. The penalties are just not there for people. We have CCTV and have panic alarms behind the counter and for staff to wear around their necks, which are connected to the police, but once something happens and escalates, it's really tough."
As loss prevention manager at The Southern Co-operative, Gareth Lewis oversees the safety of staff in 200 stores. As well as investing in facial recognition, Gareth also says there are cheaper, effective alternatives. "I have a fullsized cardboard cut-out of a police officer in the entrance of stores. Next to that I have a community police box, which allows people to fill in what their policing concerns are," he says.
"It cost me £35 for the cut-out, £25 for the box fixed to the wall and a phone call to the police to check it was okay. It's very cheap to do, but very productive. It helps create that ambience in the store that you're on the ball," he says.
Fighting the problem
All the retailers in the group agreed that lockdown has only increased the amount of retail crime they have had to deal with. "We're trying to implement better measures to make my staff feel more comfortable and protect them – that's my main concern," says Bay. "The level of violence has escalated in recent months. In one store we've had to employ a security guard."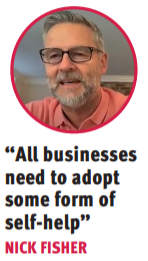 "Covid-19 has increased petty theft. We've noticed more people stealing things like meat, coffee and cheese," adds Mital. "At the height of lockdown there weren't many places open so there was nowhere else for criminals to go, like food outlets.
"We had an incident recently where we caught someone in the act and they got violent, and we're seeing that behaviour more now. We had someone come in with a crowbar the other day, but luckily they didn't hurt anyone."
Nick advises that retailers focus on the part of this spike that they can do something about. "Some people just have habits that they have to feed, and it doesn't matter what you do, but the majority of retail crime is 'low-level' theft, and this is the bit you can change with Facewatch," he says. "You can be notified as soon as previous offenders enter your store, greet them and say, 'I'm here if you need anything,' and that lets them know they're being watched."
Using emerging technologies
"We have about 35-40 stores that we would class as high risk. Knife crime in retail is at its worst level since records began in 1946, and during lockdown it's got significantly worse," says Gareth. "A couple of years ago, the thing that triggered violence the most would have been asking for ID, now it's when the stopping of a theft takes place, when our managers intervene," he says.
"We wanted to go from being reactive to preventative. That's why I looked into facial recognition. It prevents my staff from being victims and made them part of the solution."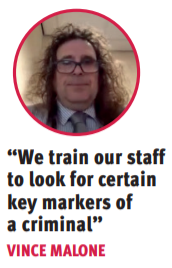 Facewatch enables retailers to report offenders when they have evidence and put them on a watchlist. This is then shared proportionally with other retailers in the area who also use Facewatch.
"You can only hold biometric data of subjects of interest. If you share that data, it has to be proportionally and that's determined by population data and the type of the crime," says Nick. "However, retailers do not need to worry about that as Facewatch holds and shares that data on behalf of our clients."
"I currently use headsets for all my staff so they can talk to each other and it's been a massive win for productivity and store safety," says Londis retailer Steve Bassett. "Would they get access to the data about a criminal in one of Gareth's stores?"
"You would if it was within a certain radius. Gareth has one of the best watchlists in the UK now by empowering staff to help build it up," Nick replies.
"We've been running facial recognition in 20 stores for about 18 months, and within that time we've diverted more than 3,000 incidents of theft. "Colleagues now feel like they're taking part in a solution and incidents of theft have dropped," Gareth says. "Our stock loss has come down to a point where we had a return on investment in eight months.
"Facial recognition is the only technology that has worked in terms of turning the offender around."
Creating a safer workplace
While crime has an economic impact on retailers, all the retailers on the call explained that the main reason for wanting to tackle crime was to protect their staff, who all too often are the most at risk of violence and verbal attacks.
"We train our staff to say 'hello' to everyone that comes in and look for certain key markers of a criminal," says Pembrokeshire retailer Vince Malone. "But we've got some really good members of staff that just do not feel comfortable with dealing with conflicts and it puts them in a stressful situation that we don't want to go down."
"I'm not sure what the right solution is, but I'm looking to invest in something to make a difference," adds Bay. "We've got two members of staff who wouldn't want to get involved, and the kinds of criminals we get in would steal from us no matter what. The main thing is to keep them safe."
It's also important to make sure crime is reported and that your staff feel like they are being listened to.
"Each retailer has to decide what method of crime prevention works for their own store. Covid-19 isn't going anyway any time soon and we're in this for the long-term, so the welfare of yourself and your staff will continue to be very important," adds Hussan.
Final thoughts
"We need to help independent retailers by sharing data. If you have a good business crime reduction partnership in the area that you trade, you're lucky." – Gareth Lewis
"It's quite simple – police resources are stretched, which means businesses have to help themselves. The sole reason we've developed Facewatch is to prevent and deter crime." – Nick Fisher
"You won't find a group of people who are more dynamic and forward-thinking than retailers. We'll always look for opportunities to tackle our problems but the main challenges in fighting retail crime are issues with other organisations." – Mital Morar
"I move my cameras around every few weeks because the first thing thieves notice is where they are. You need to have some that are hidden too." – Hussan Lal
"Covid-19 has added an extra level of complexity to our business. Our demographic shifts massively when it's holiday season so we're having to keep on our toes and constantly look at new areas." – Vince Malone
"Facewatch sounds really interesting. It sounds like the more retailers that engage with it the better it becomes." – Bay Bashir
---
Reducing retail crime roundtable
To understand more about facial recognition, please fill in the form below and we'll be in touch: