What are nicotine pouches?
Appearing on the market in 2018, Sweden led the nicotine pouch charge with brands such as Zyn, Shiro and Swave.
Containing either tobacco derived nicotine or synthetic nicotine, the pouches are placed under the upper lip where the nicotine is released and absorbed.
Unlike vaping products on the market, nicotine pouches do not require batteries or any other accessory device. They are available in a range of flavours and nicotine strengths, and much like the vaping market, menthol and mint flavours are the most popular.
Win prizes worth up to £20,000 with Nordic Spirit
As well as offering a discreet way for people to consume nic­otine, pouches are useful where smoking is not allowed, such as in the office or on a plane.
Retailers often display nicotine pouches as part of a fully stocked cigarette alternative range, and it is deemed responsible retailing as pouches are used by some smokers to quit cigarettes.
While Nicorette brought gum and patches into the mainstream, brands such as Nordic Spirit, Velo and Zyn are having success with this latest technology.
"The nicotine pouch category in the UK is growing and is now worth approximately £26.9m per year," said portfolio brand manager at JTI UK, Bruce Terry.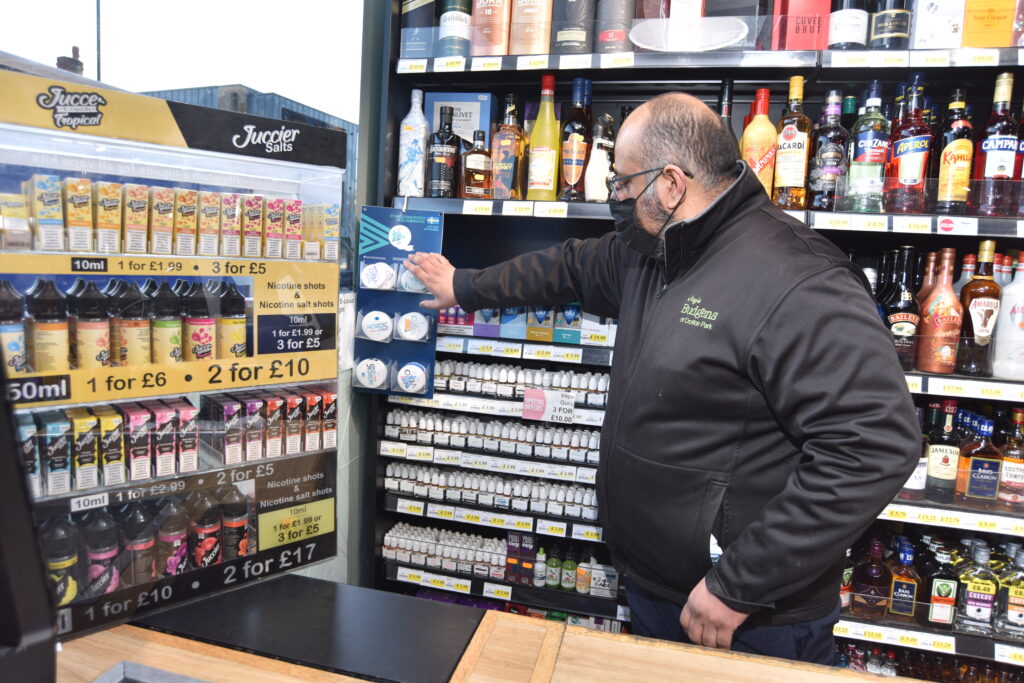 Ways to range nicotine pouches in store
"It is important to make sure you are fully stocked at the start of the year as there is a big burst in January from people looking to give up smoking.
"It is vital to have staff members who know all the products and therefore can explain the different options, whether this is vaping or pouch devices."
Sasi Patel, Go Local Extra, Manchester
"Samples are a good idea for people who are curious, but have never taken the plunge.
"We have our pouches in an open display as part of our vaping kiosk and this means customers can pick and choose, and handle the products themselves."
Avtar Sidhu, St John's Budgens, Kenilworth
"Use merchandising solutions, such as clip strips, counter displays and posters. Zyn offers online training to retail partners as well as in-store advice from a Zyn rep."
Darren Griffin, UK country manager, Zyn